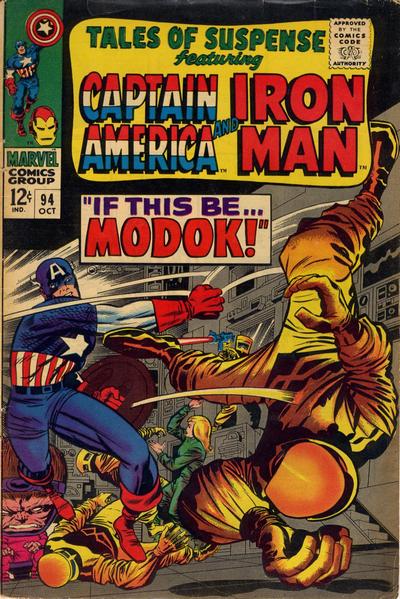 Tales of Suspense #94, Marvel Comics, October 1967
I ran across this issue while pricing up a stack of Tales of Suspense comics for an upcoming comic con. Old habits die hard so I separated all the issues above the Cosmic Cube issues (#79 and #80) for quick discount bin pricing. Later Tales Of Suspense issues, unless they are in very high grade, only seem to sell out of the discount bids.
My Spider Sense was tingling though as I was sure there was an issue of note I was forgetting about. I knew that numbers 97, 98 and 99 enjoyed extra demand thanks to Whiplash, Black Panther and the final issue respectively (check out Mike Huddleston's great post on these issues here)  but I was sure there was another I had forgotten.
Whipping out my handy dandy Overstreet Guide I saw it was what has turned out to be this week's Undervalued Spotlight, Tales of Suspense (TOS) #94.
TOS #94 features the first appearance of MODOK which is an acronym for Mobile Organism Designed Only for Killing. The character was created by that ultimate creative team of Stan Lee and Jack Kirby. George Tarleton, an ordinary technician for A.I.M, was mutated by A.I.M. into MODOK to act as a living computer. Tarleton used his newly acquired super intelligence and psionic powers to quickly overtake A.I.M. himself. In TOS #93 MODOK is heard and mentioned and this can barely be called a cameo. It's TOS #94 that we want. Oh and TOS #94 also, as a bonus so to speak,  gives us a great Iron Man/Titanium Man story drawn by the amazing Gene Colan.
The Guide has the book at $130, below the three later issues I mentioned above but just above the $105 value given to all the surrounding issues. The Market is also very quiet on this book; there have only been two sales within the last 90 days, practically scarce compared to the twelve copies of TOS #98 that have traded over the same period.
I think there is still time to snag nice tight raw copies of this book at reasonable prices. I don't think you'll find it on line as I'm sure the next 9.4 and 9.6 copies to trade will set records. It's just that this book doesn't seem to come quickly to mind and I'm positive there are copies that have been sitting in dealer bins and comic shop bins for years. Though the cat is out of the bag so to speak it doesn't seem to be common knowledge to the extent that say Avengers #28 (The Collector) is.
Like I said VF and better copies can still be found of this book, you just have to go out and look. At a con hit up the dealers with lots of Silver Age/Bronze Age bins. Dealers and shops don't have time to go through their stock every equinox and solstice to look for what might have become hot. This book is in there, I know it!
I saw a couple mid-grade copies online and it looks like the sellers are holding out for good money, as they should.
The fundamental reasoning behind my pick is that I think MODOK is a fantastic character, he's a great villain and has an extensive history versus almost all the big Marvel characters. MODOK has had great battles against Captain America, Sub-Mariner, Hulk, Ms. Marvel, Iron Man, the Avengers, the Defenders and on.
Again, this is no sleeper revelation as the book's worth is known, but for me there are two things working in our favor. First is that the book is not being given the attention it deserves giving us an opportunity to snag a few copies. Second, even if you end up paying a reasonable premium I think that given a year or so the price will seem a bargain.
The 45th Overstreet price breaks for this book is $48/$89/$130 in the 8.0/9.0/9.2 grade splits.
Strengths that make this comic a good long term investment are:
First appearance MODOK
Character and concept has a lot of potential