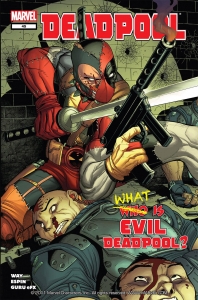 Deadpool (2008 Series) Vol. 2, #45, Marvel Comics, December 2011
That new Deadpool movie has turned into a huge, and some would say, surprise hit. I don't think anybody saw the movie doing that well especially considering the R rating it got. Well it seems Deadpool was a perfect choice to try an adult themed superhero movie.
This of course plays well for Deadpool comic book collectors and investors. Our New Mutant #98s seem safe for a while longer and who knows, we might see another spike in the price of X-Force #2.
I did a little digging into Deadpool since I have not been reading his comics. I found out that among fans his most popular foes include Task Master (1st appearance Avengers #196), Apocalypse (1st appearance X-Factor #6) and Carnage (1st appearance Amazing Spider-Man #361). These are all great foes whose 1st appearances command strong prices.
Another nemesis that kept appearing in fan voting was Evil Deadpool. To be honest I was not familiar with the character. I read up on Evil Deadpool and really enjoyed the origin story. In Deadpool Vol. 2 #44 Deadpool comes across a whole bunch of his old severed body parts, these parts were collected and stored in a freezer by his stalker Doctor Ella Whitby. Disgusted, Deadpool chucks all the freezer contents into a dumpster. Since the body parts possess Wade Wilson's healing factor they end up fusing together after thawing. And the Evil Deadpool is born, possessing the same powers and abilities as Deadpool but without a conscience.
Though the body parts can be seem in issue #44 and the last panel of the issue implies the Evil Deadpool has fused together it is not until this week's Undervalued Spotlight pick Deadpool Vol. 2 #45 that we are fully introduced to this new character.
I looked in the Overstreet Guide and did not see a mention of any Evil Deadpool. I checked the GPA and it looks like 1 CGC 9.8 copy sold 4 years ago for $40, the rest of the sales are more recent Signature Series and Variant issues.
Actually as of this post there are only 4 universally CGC graded copies (all 4 are 9.8s) versus the 12 CGC graded Variant issues.
What's not to like about this book? I don't see a downside to picking up a dozen of these and waiting until someone realizes this is a very cool book that introduces a very cool Deadpool foe.
The 45th Overstreet price breaks for this book is $4 in the 9.2 grade split.
Strengths that make this comic a good long term investment are:
First appearance of Evil Deadpool
Cheap Cheap Cheap – for now