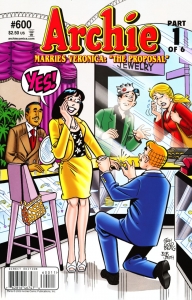 Archie #600, Archie Comics, October 2009
A quest to amass a worthy collection should not be dictated by value alone nor solely by things like first appearances. Let's consider books that delivered things that surprised us, elicited reactions, positive and negative, from society at large. Let's consider books like this week's Undervalued Spotlight feature Archie #600.
I've covered Archie before on the Spotlight, one of my earliest picks (Spotlight #5) was Pep Comics #22. Man do I wish I listened to my own advice back then. Pep Comics #22 is one of my top 5 comics to own, I'm still awed by the magnitude of that book. Remember there's no Archie on the cover, just a little 6 page throw away story that somehow snowballed into something so big and so special it became a part of our grandparents growing up, our parents growing up and for the lucky ones of our generation growing up.
Archie was born during the height of the Superhero age and succeeded beyond anyone's expectations. I'll go out on a limb and say he's been the most published character in American comics, though I think ComicVine has Batman and Superman in more issues I'm not sure if that counts all the digests. At any rate Archie has been published non-stop for over 75 years and in my view is the most important American comic book creation that is not a superhero.
Archie #600 is of course the "proposal" issue. Ever since Archie Comics #7 introduced the Veronica/Archie/Betty love triangle fans have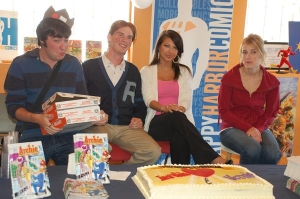 expressed their views on which girl Archie should eventually pick and marry. When Archie finally picked one and it was Veronica it was a big deal. I remember our shop sold out by early afternoon on the Wednesday, the phone had been ringing off the hook, people were offering us crazy money to "put one aside". It was a unique thing to live through. Oh how I wished I was as smart as my good buddy Jay. Jay owns Happy Harbor in Edmonton and he went out and bought 1,000 copies (my facts may be off but hopefully we'll get Jay to confirm), hired some actors and staged the "wedding" at his store to the delight of a lot of media and hundreds of fans. How fantastic was that idea! Archie #600 was a strong enough sensation and an important enough moment in the lives of so many people that it easily carried the day and made an event like the one at Happy Harbor so successful.
The Comichron site has the print run listed at 54,113, small relative to the reception, the book would have sold 250,000 had more shops been as creative as Happy Harbor. As of this printing there are only 24 Universally graded (blue label) by CGC, 23 of those are 9.8s. The last 9.8 sold back in the summer of 2015 for $51, the lone 9.6 sold last summer too for a whole $10. So no sales in over a year. I wonder how a 9.8 would do today.
Archie Comics #600 began a very creative phase for the publisher Archie Comics. The imaginary Veronica marriage story ran from issue #600 to #602 and that was followed by the Betty marriage story that ran in #603 to #605.
A year later in 2010 Archie Comics introduced Kevin Keller as their 1st gay character. The issue and the character proved successful and Archie Comics followed that up with another successful idea that turned the world of Archie into a world of Zombies in 2013's Afterlife. In 2014 Archie Comics ran a controversial Death of Archie story. The company has definitely been at the forefront and Archie Comics #600 seems to have been the catalyst.
In 2013 there was a live action Archie movie optioned, I could not find anything on casting and I don't know if the idea is dead in the water but boy do I wish they would have made the Archie movie back in 1976, that way Danny Most a.k.a. Ralph Malph would have been a shoo-in for the part.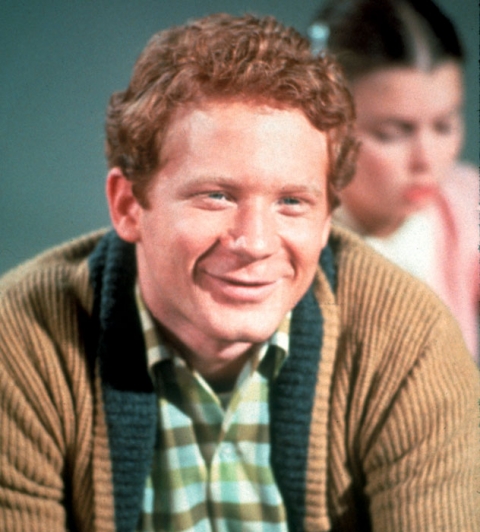 Find yourself a nice tight copy of Archie #600, quadruple board it, push it into a shiny mi-lite then file it in its rightful place among the books that created great moments in comic book history.
The 46th Overstreet price breaks for this book is $4 in the 9.2 grade split.
Strengths that make this comic a good long-term investment are:
Archie proposes to Veronica
Pivotal moment for the publisher/character/pop culture
Cheap, cheap, cheap!