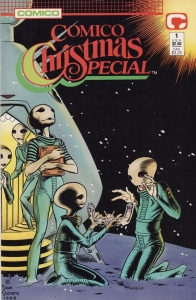 Comico Christmas Special #1, Comico, December 1988
The Christmas edition of the Undervalued Spotlight shines its festive light on the Comico Christmas Special of 1988.
Talk about a gift that keeps on giving. Ho Ho Ho!
Let's start with a great Dave Stevens cover.
Then we'll go to the 12 page of Time Sale art in "Stiflemix Diaries".
Then we can point to the 8 page Bill Willingham art in "One Winter's Day".
And let's not forget the 4 pages of Steve Rude art, with Al Williamson inks in "Traditions Everlasting".
The book actually delivers a total of 5 cool holiday stories by Swamp Thing scribe Doug Wheeler. As you see above, the young talent providing the art are future Hall of Famers for sure.
I love this little book (at 44 pages it's actually not that little). It's unique and it's fun and it's one of those hidden gems from the 1980s that makes you wonder, why it not in more demand. Well I for one have long forgotten about it and I bet I've thumbed past it in long boxes destined for the Bargain Bins without ever noticing.
How great a stocking stuffer with this be.
Happy Holiday's everyone and for those celebrating on the 25th, Merry Christmas!
The 46th Overstreet price break for this book is $5 in the 9.2 grade split.
Reasons to buy this comic book as an investment.
Unique Christmas Special from the 1980s that is super cheap
All-star cast of artists make this an art connoisseur issue