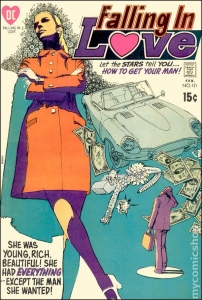 Falling in Love #121, DC Comics, February 1971
Ahh, my favorite post of the year because I get to say, Happy Valentine's Day everyone. I hope your day/year/life is filled with love.
I honestly spend too much time on this post every year. There are so many eras and angles to choose from and it seems like I explore every one of them before picking my book..
I've chosen a book that has been in queue for the Valentine's spotlight for a while. I present this week's Undervalued Spotlight as Falling in Love #121.
Charlton Romance books are my collecting preference but even I must concede the draw of the big DC romance titles like Falling in Love.
DC Romance books are actually tough to get especially anything post 1970. There is quite a strong collecting community for these issues.
For these comics the covers are the biggest draws and I can't think of many romance covers as hip, cool and eye catching. Falling in Love #121 has a fantastic cover!
I'm always trying to find some extra value with my picks so I thought you'd like the 1st story. Love me Today, Forget me Tomorrow is an 8 pager that tells the story of how a girl named Alice gave up her promotion and her feminist beliefs to ensure that her boyfriend advances in her place.
That story tells me two things. First, it speaks to the power of love, which is what this post is celebrating. Second, it tells you who was writing these things back in the day.
All well rounded comic collections should have shining examples of the Romance genre, Falling in Love #121 will do just nicely.
This is the comic that will always be missing if you are lucky enough to find someone with a selection of DC Romance from the era.
Believe it or not the last CGC recorded sale was almost 6 years ago.
Hey if anyone finds a high grade copy, I'm interested!
The 46th Overstreet price break for this book is $15/$22/$28 in the 8.0/9.0/9.2 grade splits.
Reasons to buy this comic book as an investment.
Stunning cover
Insultingly cheap in the Guide
1970s DC Romance books are very collectible