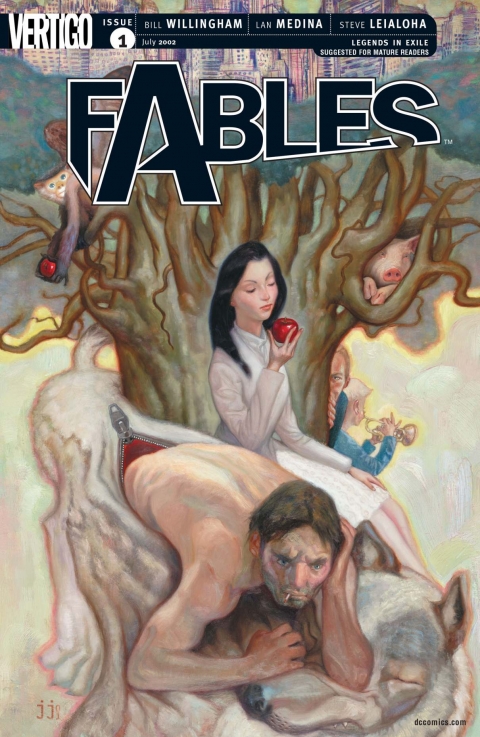 Fables #1, DC/Vertigo, July 2002
When I started working at the comic shop full time back in the 2003 I immediately set about trying to read as much new stuff as I could so I at least sounded like I knew what I was talking about when I talked comic talk to customers. I think I did OK with most but I think a few were on to me.
The nicest surprise out of this immersion into all things new was reading Fables, I enjoyed it immensely and have always viewed it as an important series. I'll finally honor it by choosing Fables #1 as this week's Undervalued Spotlight.
Creator Bill Willingham went about and collected all the public domain characters out of old folklore and fairy tales and turned it into the wonderful concept that is Fables.
All the Fables characters have been chased out of their Homelands by the Adversary. They have regrouped in New York City while the non-human characters are hiding out in a farm in upstate New York.
The series rightfully won all kinds of awards and gained a loyal fanbase. Fables was one of those titles that sold just as many graphic novels as it did comics. The graphic novels worked so well because they were strong distinct story arcs.
Big Bad Wolf, Snow White, Pinocchio, Cinderella, Flycatcher (Prince Ambrose) were all a joy to see adapted into the world of today. I read somewhere that NBC planned a Fables TV series around 2007, it never happened but the network did develop and air Grimm which seems to be an obvious note to Fables.
There is always talk about a motion picture and I believe it will happen.
The reason I'm so high on this book is that it adapts some of the greatest fictional characters ever created in gives them their own unique comic book identity. The DC/Vertigo Big Bad Wolf is Bigby, now a character unto himself.
Comics have a history of adapting other properties well. Obvious examples are Thor (the comic book Thor is the way most people now view the Norse god of thunder). It was the Comic version of Conan that flushed out the films. Harley Quinn came out of animation, my recent nod to Werewolf by Night is another example.
A rich, rewarding and unique world within the comic book medium has been created here, the storytelling possibilities are endless. The important thing we have to ask here is has Billingham created characters synonymous with the comics. These are public domain characters so the Fables comic interpretations must be strong enough to hold sway in popular culture. I'd say they have only done this to a degree with the individual characters but they've really done it in terms of concept and popular cultures acceptance of the concept.
Right now you can go on line and pick up a CGC 9.8 copy for $150 which seems cheap considering what CGC 9.8s get for material not nearly as good.
The 46th Overstreet price break for this book is $65 in the 9.2 grade split.
Reasons to buy this comic book as an investment.
1st appearance Fables characters like Snow White and Big Bad Wolf
Concept rich with possibilities