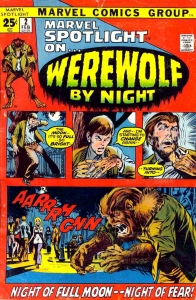 Marvel Spotlight #2, Marvel Comics, February 1972
This week's Spotlight came to me while I was chatting with some friends about Sherlock Holmes. We were talking about the latest BBC TV episodes starring Benedict Cumberbatch (the Marvel Doc Strange).
We talked about how Sherlock was a public domain character but was never successfully adapted into comics. The conversation ended up over at the old Universal Monsters for some reason and we talked about Marvel's Bronze Age foray into the Frankenstein, Dracula and Werewolf characters.
Did you know those Marvel comics and the likes of Ghost Rider, Son of Satan others were in part made possible thanks to Amazing Spider-Man #96? I digress with this blatant nod to the old Nelson de Rocha Spotlight #197.
Anyway it was Spotlight time so I revisited those old Bronze Age Marvel macabre books and as a result I can present this week's Undervalued Spotlight as Marvel Spotlight #2.
Marvel Spotlight #2 features the 1st appearance of Jack Russell (Jacob Russoff) and the Werewolf by Night.
Of the three classic monsters Marvel chose to introduce Werewolf by Night first, followed by Dracula in April 1972 and Frankenstein in January 1973. Werewolf by Night appeared in Spotlight #3 and #4 before getting his own title in September 1972. Werewolf by Night lasted 43 issues and famously introduced Moon Knight in issue #32.
In my opinion Werewolf was the most removed adaptation, the one that best stamped his own unique identity. Perhaps this was easy considering the fact that Dracula and Frankenstein were the more defined characters and Marvel tried to stay close to the source material. Maybe that's why the Werewolf character feels the most "Marvelly" to me. "Marvelly"? Yeah as in the way Marvel takes characters and makes them their own like Thor, Conan etc.
I think it's the alter ego that makes it work. Jack Russell can be written into contemporary times and flushing his character out makes the Werewolf more unique by being closely tied to his alter ego. I'm not sure I'm explaining this right but for me it works and for me Werewolf by Night was the most "Marvelly".
The talent that put this comic together is impressive, Roy Thomas and Gene Conway wrote and scripted while Mike Ploog did the art, and Neal Adams did the pencils on the cover.
Marvel Spotlight #2 officially belongs in that most beautiful of Marvel collecting strains, the November 1971 issues or more accurately the 25 cent Giant issues that bridged the cover price rise from 15 cents to 20 cents. These books range from October 1971 to February 1972, have a read of the comments section in Spotlight #94 for more.
There has been talk of Disney/Marvel starting up a macabre universe for future movies and while we can't be sure that Werewolf by Night would fit in there somewhere we can be sure that speculation on the book should heat up with any announcements.
The book has been flat for the last 5 years but I think it's poised to gain some value. I'd concentrate on at least a 9.0 but a nice tight 9.2 would be a keeper for this comic.
The 46th Overstreet price break for this book is $126/$281/$435 in the 8.0/9.0/9.2 grade splits.
Reasons to buy this comic book as an investment.
1st appearance of Jack Russell/Werewolf by Night
Part of the massively popular Marvel November 1971 25 cent issue collecting strain
The most "Marvelly" of monsters!