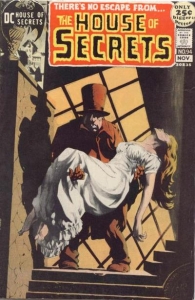 House of Secrets #94, DC Comics, October/November 1971
Sadly Bernie Wrightson passed away March 18th, 2017 at the way too young age of 68. Mr. Wrightson was a true giant of the industry, his work helped define the Bronze Age of comics. He'll best be remembered in comics for co-creating Swam Thing with Len Wein back in 1971's House of Secrets (HoS) #92.
Bernie Wrightson was probably the 1st artist I remember being able to visually identify. I must have been a dumb kid because I never clued into the fact that artists had different styles, that artists were able to make or break a comic until I was a little older. Yeah characters looked different but I didn't piece together that they looked different because different people drew them in different ways, like I said, I must have been a dumb kid.
It all came together for me when I started reading more and more and collecting more and more, in the mid 1970s. I remember one of my first collecting strains being the really creepy covers that were so important to comics in the early 1970s. Collecting these covers for kids in my neighborhood was akin to collecting EC covers 20 years earlier except we didn't know about EC Comics until years later.
Piled up among my Spidey and FF runs were stacks of scary macabre titles like House of Secrets, House of Mystery, Tower of Shadows and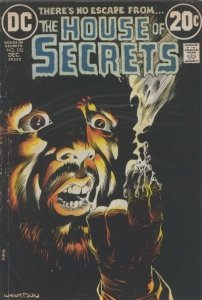 Chamber of Darkness. It was the covers that drew us to these books and we had our favorites. I remember House of Secrets #103 being popular along with House of Mystery #195.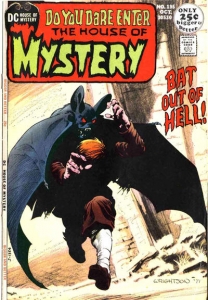 As a young guy starting to collect comics I'd say my favorite of the lot was the book I'd like to pay tribute to Bernie Wrightson with and feature it as this week's Undervalued Spotlight, House of Secrets #94. The ghoul and the damsel subject matter is executed perfectly on this cover.
The early 1970s conjure up certain imagery, the Hammer Films of the time with the grainy sepia-tone visuals blur with the Wrightson covers of this time. For me it all represented a moment in time, one I can go back and nostalgically visit  by playing the Vincent Price intro to Hilarious House of Frightenstein, watching a Hammer Film or picking up a Bernie Wrightson macabre cover of that time.
I guess this pick is really the one I choose to represent this whole era of Wrightson work. We all have our favorite covers, who isn't awed by DC 100 Page #4. They are all great and they are all slowly becoming undervalued.
I remember about 10 years ago when the early 1970s DC macabre genre was one of the hottest strains in collecting. The Secrets of Sinister House, House of Secrets, House of Mystery and others all rose dramatically in value very quickly and then they went flat.
In these past 10 years key books like House of Secrets #92 with its 1st Swamp Thing appearance, House of Secrets #81 and House of Mystery #174 (where the two titles made format changes that would end up being such perfect fits for Wrightson a couple of year later) continued to grow in value while the rest fell off.
I remember books like House of Secrets #103 going for huge money back in 2006, prices not realized even today.
That is slowly changing, especially for some of the stronger Wrightson covers. These books as a group have slowly risen and are getting close to what they got 10 years ago. Given how strong the covers all are and given that Bernie Wrightson will live on as one of the greatest artists of this era and this genre I'd say now is a good time to scoop up high grade copies of what you think the 10 best covers are and keep them together because I think these work best when represented as a body of work, as a specific collecting strain.
The 46th Overstreet price break for this book is $46/$86/$125 in the 8.0/9.0/9.2 grade splits.
Reasons to buy this comic book as an investment.
Fantastic Bernie Wrightson cover
HoS #94 is an intregal part of this collecting strain