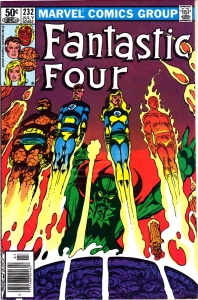 Fantastic Four #232, Marvel Comics, July 1981
Our great little discussion over at my recent Auction Spotlight post heavily influenced this week's Undervalued Spotlight pick, Fantastic Four #232.
In the discussion commenters left opinions both in favor and against the idea that the Fantastic Four can enjoy a resurgence. One point was made on the importance of a book establishing a legacy, not necessarily a legacy like the longevity of the title but a direct connected legacy to the book in question like a run buy an artist/writer, connected story arcs etc. Another point was made about how popularity ebbs and flows for all but the very top of the heap and even for those to some degree.
Fantastic Four #232 starts John Byrne's epic run as writer/artist on the title, he bowed out at #293 (though he plotted #294). Byrne started drawing FF at issue #209 but much like Frank Miller's Daredevil #158 it is eclipsed in importance by the issue in which he started to write and draw (Daredevil #168 for Miller). Byrne drew 60 covers in a row right through to #292, he only missed #268 because that one has a photo cover.
Here's the thing with Byrne Fantastic Four run that started with #232, for many collectors today it is the best epic run of the title, the one they connect to, the one they ran to their comic shop or local convenience store every month to eagerly pick up.
Of course even these fans (most) would not dispute that the Kirby/Lee run is the apex run in the title, the Silver Surfer trilogy being the "Stairway to Heaven" of all of Marveldom. But every generation has their song so I'll say that FF #232 was the opening riff to "Smells Like Teen Spirit" for today's 40 somethings.
OK those were terrible analogies but my point is FF #232 is a marker issue, very significant in the Fantastic Four canon and it's an issue that deserves more attention. For CGC 9.8s the 12 month average is $76, the 2015 average was $63. I'd recommend you go out and hunt down some nice tight raw copies.
In Fantastic Four #232 Byrne turns to Diablo (1st seen in FF #30, an under the radar book in itself) for villain duties.
This pick was an easy one for me because I'm banking on a revival of fortunes for the Fantastic Four property. When the team once more reaches the forefront of popular culture there will be no way to ignore the allure of the book that started one of the most acclaimed and loved runs in the title's history.
The 46th Overstreet price break for this book is $5/$6/$8 in the 8.0/9.0/9.2 grade splits.
Reasons to buy this comic book as an investment.
1st issue of John Byrne's epic run
Super cheap and still available
Fantastic Four will be back!!