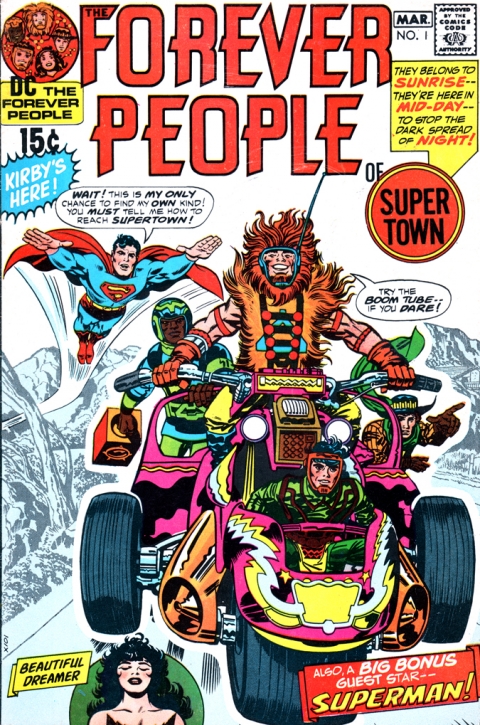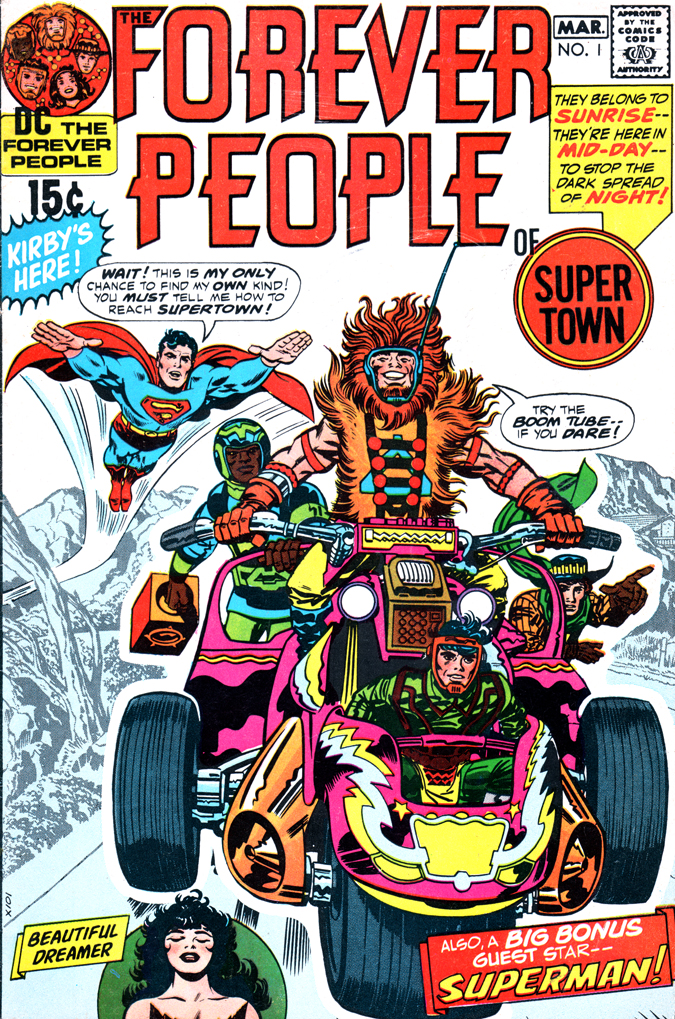 Forever People #1, DC Comics February/March 1971
This week's Undervalued Spotlight shines on Jack Kirby's seminal Forever People #1.
I was drawn to Forever People #1 as I was reading about the online April fool's joke that had Matt Damon playing Darkseid in the upcoming Justice League movie. At least I think it was an April fool's joke? Anyway the point is there's excitement building around the movie and around the Darkseid character.
I've also been reading on other sites that Darkseid's appearance in the movie will be minor, that DC will build up the character like Marvel has done with the cinematic Thanos (Thanos, is of course a swipe of Darkseid).
Forever People #1 features the 1st full appearance of Darkseid. I've actually had this book in my "future spotlights" page for a few years but when the book started heating up I backed off.
The reason Forever People #1 made it back into the green light pile is that, well, it's been losing value. Back in 2015 CGC 9.6 copies averaged $832, last sale was $515. Also back in 2015 CGC 9.4 copies averaged $519, last sale was $414.
I see the drop in value as an opportunity, I think this is a good time to jump on and snag a nice tight copy.
I remember Peter Chin posted a great CBD article on 1st appearances versus brief 1st appearances, in that post Peter covered books like Hulk #180 versus Hulk #181 and Jimmy Olsen #134 versus Forever People #1. That one panel of Darkseid in Jimmy Olsen #134 is still propelling the market when it comes to Darkseid, the last CGC 9.4 sold for $1800 recently.
The key here I think will be the Justice League movies and their ability to propel Darkseid to his rightful place as one of the big villains of comicdom. Once that is accomplished more light will shine on his comic book appearances and a new wave of collectors and investors will see the dis-connect in the importance of Forever People #1 and its value.
The 46th Overstreet price break for this book is $89/$195/$300 in the 8.0/9.0/9.2 grade splits.
Reasons to buy this comic book as an investment.
1st full appearance Darkseid
Market's current focus on Jimmy Olsen #134 should correct