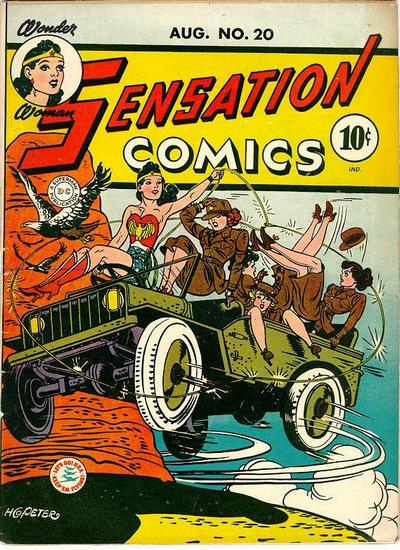 Sensation Comics #20, DC Comics, August 1943
I was reading up on the upcoming Wonder Woman movie, lots of hype online and lots of general excitement. I thought I'd comb over some old Wonder Woman comics and see if I can find an interesting book that is not one of the usual suspects.
I found a few actually and after some deliberation I've decided to shine this week's Undervalued Spotlight on Sensation Comics #20.
Sensation Comics #20 is a great issue featuring Nazi saboteurs and lots of ladies from WAAC (Women's Army Auxiliary Corp). The most important thing it has going for it is the cover of course. While it may not fit the criteria for Durajlija's Equation for Iconic Golden Age covers (DEIGAC) it certainly has other qualities.
The Golden Age is currently being combed for stand out, must have covers. Extreme examples of this trend can be found in issues like Punch #12, Crime Suspenstories #22, The Spirit #22 etc.
I'm not saying this cover is at the level of the books mentioned above but what I am saying is that it has the same allure, namely that the cover carries the day. Sensation Comics #20 will differentiate itself from the issues around it over time.
OK, if I have to explain why this cover has appeal then I can't help you. A cover with Wonder Woman and a jeep full of WAAC girls getting tossed around and showing plenty of gams is a cover that with some awareness will enjoy way more demand.
There was a CGC 5.5 sale back in 2015 for $430 while a CGC 9.2 fetched $1,852 back in 2014. Cheap!
With the so much heat on great Golden Age covers I'd be grabbing any copy I can get my hands on at similar prices.
The 46th Overstreet price break for this book is $826/$1413/$2000 in the 8.0/9.0/9.2 grade splits.
Reasons to buy this comic book as an investment.
WWII issue, with Nazis
WAAC cover!!