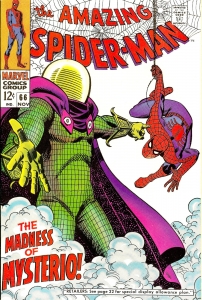 Amazing Spider-Man #66, Marvel Comics, November 1968.
There were several things that happened this past weekend that helped me choose Amazing Spider-Man #66 as this Week's Undervalued Spotlight pick.
First off the big Spider-Man: Homecoming movie opened to impressive box office numbers, they are probably even more impressive that we think considering this is the 3rd time the Spidey Origin has been told on film since the 2002 Spidey movie. Homecoming has also been getting strong and positive reviews. Spider-Man seems to so easily transfer onto the younger generations – an important fact to note when picking a long term investment.
Then there was my sale of a solid copy of Amazing Spider-Man #1 that I had for what now seems like too short a time, and there was also the heartbreak of almost buying a copy of Amazing Fantasy #15 only to have it sell hours before. Gah!
There was also the update I read on how Marvel is coming along on their new Legacy numbering project, where they will give the new comics coming out sequential numbers on the assumption that all the say, Amazing Spider-Man issues will count successively going back to #1. I think this return to continuity numbering matter as it is an obvious and visible linear connection to the issues that came before the issue in your hand.
Top all that off with the realization that I have not posted an Amazing Spider-Man as a Spotlight pick at all in 2017 and you could see why this week's pick had to be an ASM!!
I symbolically picked #66 to reinforce the continuity point. Regular run issues (with no 1st appearances) have been relatively flat over the past couple of years. The relative rise in the key issues that are sprinkled in between these run books now make these run issues seem all the more cheap.
I've been on a "quality of cover" kick recently so I thought a fantastic Mysterio cover checks off both the 'great cover' box and the 'strong principle character on cover' box.
Spidey is here to stay and if anything the Amazing Spider-Man title (ASM) is the greatest and most popular run to collect in comics. ASM wins this title almost by default as only a madman or a billionaire would even fathom trying to complete a Detective Comics or an Action Comics run. The Amazing Spider-Man run is by multiples, even exponentially the best run still in play to most collectors and investors especially issues #1-#129.
Prices are reasonable, the issues through the whole run trade regularly, even in the higher grades.
The 46th Overstreet price break for this book is $64/$132/$200 in the 8.0/9.0/9.2 grade splits.
Reasons to buy this comic book as an investment.
Great Mysterio cover
ASM up to #129 is a great collecting strain