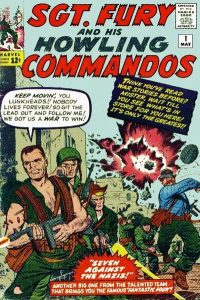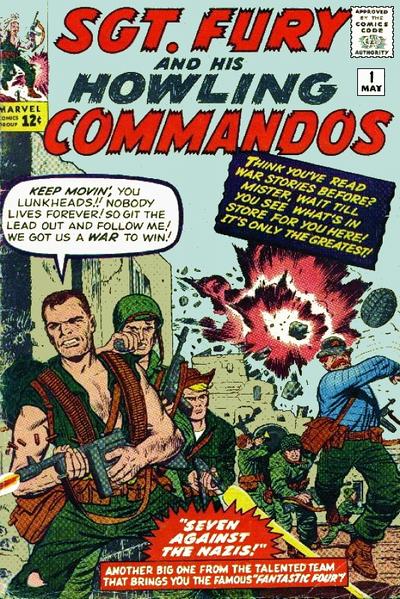 Sgt. Fury #1, Marvel Comics, May 1963.
Early Marvel keys are on fire. Amazing Fantasy #15 has just simply vanished into the stratosphere for most of us. As of this post Amazing Spider-Man #1 and Fantastic Four #1 are also red hot with prices skyrocketing with each new sale. Journey into Mystery #83, Daredevil #1, Tales of Suspense #39, X-Men #1 are hot too showing some record breaking recent results.
A run on these early Marvels is happening and since the books are inclusive we'll see all the early Marvel keys enjoy some rapid appreciation.
For me the early Marvel keys end at Daredevil #1 (April 1964), they began in November 1961 with the publication of Fantastic Four #1. In that span Stan Lee and team gave us (chronologically) the Fantastic Four, Ant-Man, Hulk, Spider-Man, Thor, Iron Man, Sgt. Fury, Doc Strange, X-Men, the formation of the Avengers and Daredevil. Not a bad body of work for a 29 month stretch.
This week's undervalued Spotlight shines on the book that is getting the least love of the lot, Sgt. Fury #1.
Sgt. Fury #1 introduces Sgt. Nick Fury and Dum Dum Dugan and his Howlers. The book predates X-Men, Doc Strange, Daredevil and the Avengers being published just 2 months after Amazing Spider-Man #1 and Tales of Suspense #39.
Sgt. Fury was a war title and never really hit into the 1960s Marvel continuity though Captain America made a couple of cameos and the Fantastic Four made at least one over the title's run. The missing continuity most certainly weighs on the book's value but I think that's where the market has some correction to make. Sgt. Nick Fury turned into the Agent of S.H.I.E.L.D. in August 1965 and you could not get a more central, rooted character in the whole Marvel Universe than Nick Fury, the guy is the linchpin. Sgt. Fury #1 should enjoy much more demand and value based on it being Nick Fury's 1st appearance.
In a way Nick Fury is similar to Hamk Pym. Tales to Astonish #27 which introduced Hank Pym and a scientist shrunk down to the size of an ant was basically a sci-fi story, Marvel adapted the character into a superhero 8 issues later in Tales to Astonish #35.
I think it's fair to add Dum Dum Dugan and his Howlers to the argument, the team showed well in the Captain America movies. Imagine if Marvel/Disney revisits WWII when they get the Human Torch and Sub-Mariner rights. It would be a Timely Shomburg party and Sgt. Fury and the Howlers would fit right in.
When you stop and think about the prices the other early Marvel keys are getting you end up thinking you're reading the sales figures wrong when looking up Sgt. Fury #1 prices. A CGC 6.0 recently sold for $1,374 while a CGC 7.5 got $2,868 less that a year ago.
I think the sweet spot for investing in this book is an 8.0. Grabing an 8.0 puts you in the top 10% of all graded CGC copies landing you one of the top 55 copies, not bad for maybe just over $4,000.
The 47th Overstreet price break for this book is $1,251/3,545/$8,023/$12,500 in the 6.0/8.0/9.0/9.2 grade splits.
Reasons to buy this comic book as an investment:
1st appearance of Sgt. Nick Fury
1st appearance of Dum Dum Dugan and his Howlers
An early Marvel key