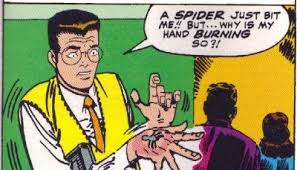 On November 2nd, Steve Ditko turned ninety! The rather reclusive Ditko, in his usual fashion, kept out of the spotlight altogether.
If you are reading this column, you are likely well aware of the incredible amount of work that Mr. Ditko has done, from the Golden Age, through the Silver Age, into the bronze and even still publishing new independent comics today. I did not know this until doing some research for this article.
Ditko currently publishes with Robyn Snyder ,who was an occasional Batman writer in the 1980s. You can see what he is up to
here
.
Steve Ditko lives in New York, his address is not secret and he is listed in the phone book. If the internet is to be believed (It must be true! It's on the internet!) his net worth is 5 million dollars. I guess being the co-creator of Spider-Man and Doctor Strange has rewarded him well.
There are very few pictures of Steve Ditko available, which is why we always see the one attached, but if I had to guess, I would peg him as Adrian Toombs, the original Vulture, from Spider-Man #2.
Here is a link to an interesting BBC hour long documentary "In Search of Steve Ditko" from 2007 which is really quite enjoyable.
And  another interesting article about a 8 year old fan who sent him a letter, and actually got a reply!
https://www.cbr.com/an-8-year-old-fan-wrote-steve-ditko-a-letter-and-heres-how-ditko-responded/
So raise a glass to the co-creator of some of your favorite characters and may the Hoary Hosts of Hoggoth join you!
Here is another letter from Steve Ditko to a fan that I guarantee will tickle your funny bone! At least it did mine!