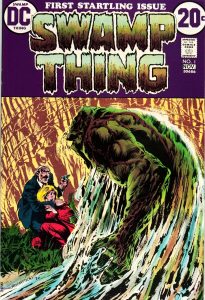 Swamp Thing #1, DC Comics, August-September 1972.
Long time Undervalued Spotlight supporter Carey chimes in this week with a fantastic pick. Carey has always had a good eye spotting the obvious that others sometimes miss and this week is no exception. So enough of me talking about Carey, lets let Carey argue for his book.
Over the past few of years, there has been a fair bit of speculation on some of DC's supernatural characters such Swamp Thing, Deadman, Demon and Zatanna with news that Guillermo del Toro was planning on bringing the Justice League Dark to the big screen.
Swamp Thing is undoubtedly the most significant of these characters with a long running title, two movies and a TV series to his credit. Also, as evidenced by the latest Auction Highlights, House of Secrets 92 is one of the most sought after issues of the bronze age. However, what is often overlooked is that House of Secrets 92 isn't the first appearance of the true Swamp Thing.
The Swamp Thing story in House of Secrets 92 by Len Wein and Berni Wrightson features a character named Alex Olsen who is transformed into a Swamp Thing following the attempted murder by his partner who wanted to steal his wife. This was originally intended as a stand alone story. It was only after the popularity of this story that a Swamp Thing series, also by Len Wein and Berni Wrightson, was made.
It was in this series that the true Swamp Thing, the Swamp Thing that is part of DC continuity, was introduced. This would be the Alec Holland Swamp Thing. While Alan Moore would later tie the two versions of Swamp Things together in Swamp Thing vol. 2 #33 with the revelation that there were multiple Swamp Things prior to Alec Holland with Alex Olsen being one, House of Secrets 92 is arguably a Swamp Thing prototype.
Is House of Secrets 92 overvalued? That's open to debate. But one thing is certain, the character that spawned multiple comic runs, two movies and a TV series was really introduced in Swamp Thing vol. 1 #1, and seeing that high grade copies of this issue can often be had for less than $300, I'd suggest that Swamp Thing vol.1 #1 is an overlooked book and is this week's Undervalued Spotlight.
The 47th Overstreet price break for this book is $112/$249/$385 in the 8.0/9.0/9.2 grade splits.
Reasons to buy this comic book as an investment:
First appearance of the Alec Holland Swamp Thing