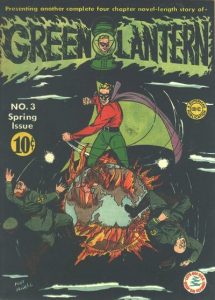 Green Lantern #3, DC Comics, Spring 1942.
I noticed my most recent Spotlights have featured some easy to source books, this week I'll mix things up and go with something much more elusive.
I was chatting with a long time customer in the back of the shop about Green Lantern (his favorite hero) and somehow we got on the topic of how awful most of the Golden Age Green Lantern covers are, All American covers included. I'm a terrible artist and an even worse critic but I've been around comic book covers enough to have a sense of what works, after all did I not formulate the now famous Durajlija's Equation for Iconic Golden Age Covers (DEIGAC)?
We called out some favorites, he really loves Green Lantern #1 with the huge lantern in the background and while I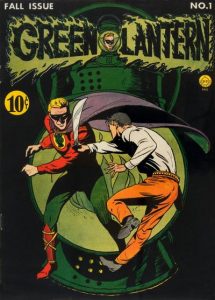 agreed it's a great cover I thought week's Undervalued Spotlight, Green Lantern #3, was even better.
What Green Lantern #1 and #3 have in common is that they were both drawn by Martin Nodell, the creator of Green Lantern and the principle interior artist for the first few years of the character. Martin Nodell only drew 3 Green Lantern covers, #1, #3 and #7 and all 3 are among the best in a very mediocre 38 issue run of covers.
DC Comics featuring World War II covers are coveted issues commanding strong prices. Part of the mystique around DC wartime covers I think is the fact that they are relatively scarce. Publishers like Timely Comics and Quality Comics focused on wartime covers while DC used the war sparingly. Wartime covers on Batman and Superman books are some of the hottest Golden Age books on the market with Nazi covers being the most sought after.
I think there was only 5 Green Lantern war themed covers over both All American and Green Lantern and of those only this week's Spotlight Green Lantern #7 featured Nazis and only the Green Lantern #7 cover was drawn by Martin Nodell. For me its the strongest of these wartime covers.
While the book is harder to find it does trade, there have been 7 recorded CGC sales over the past 2 years and almost all went for below what I think are too low Guide prices. A CGC 7.5 sold for $2705 over a year ago while a CGC 5.5 $1525 last year.
Covers drive comic book values especially in the Golden Age and Green Lantern #3 offers up the very best of a very small supply of World War II covers featuring the Green Lantern. I think the market is overlooking this book I think it's a strong enough cover to earn the same kind of demand enjoyed by similar covers featuring Batman and Superman.
The 47th Overstreet price break for this book is $660/$1320/$1980/$4818 in the 2.0/4.0/6.0/8.0 grade splits.
Reasons to buy this comic book as an investment:
Rare DC wartime cover
Nazi cover drawn by Green Lantern creator Martin Nodell