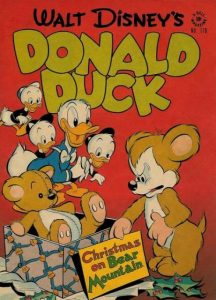 Four Color #178, Dell Publishing, December 1947.
I was ruminating with a pal on the possibility of a hobby wide resurgence of the classic old Funny Animal genre. Honestly it's tough to think of a deader genre than the Funny Animal genre but I've noted a slight wobble in the marketplace when it comes to the big key issues.
Walt Disney's Comics and Stories #1, Four Color #4 (1st series), Four Color #16 (1st series), Four Color #9 (second series) used to be such heavyweights back in the day, all ranking high in Overstreet's annual list of top Golden Age books. I'm not sure why they fell so far and so hard from grace but I think things might be turning around for these books, I think picking up one of the bigger keys might be a smart play right about now. I'd say focus on the best creator of the most endearing characters, go with Carl Barks Ducks.
There is no better place to start than this week's Undervalued Spotlight pick Four Color #178.
Four Color #178 features the classic "Christmas on Bear Mountain" by Carl Barks and it features the 1st appearance of Uncle Scrooge.
Back in the late 1980s and early 1990s I used to sell lots of Barks Duck books and the hottest of the bunch back then was easily Four Color #386 which was considered Uncle Scrooge #1. Today Four Color #386 has a Guide value of $6000, almost double our Four Color #178. It's like this genre and these characters have been so neglected that nobody noticed that they skipped school the day we were all taught that 1st appearances trump 1st issues, Amazing Fantasy #15 and Pep #22 didn't miss that class, they were both sitting in the front row!
Four Color #178 seems mispriced when you consider it up against all the books I've mentioned above. Here is an early Carl Barks Donald Duck book that features the 1st appearance of a major pop culture character and it's fetching below Guide even in high grades like CGC 7.5 and CGC 8.5 (a CGC 8.5 recently lost for less than $2000).
I think Four Color #178 would be one of the big beneficiaries of a reawakening of the market for the Funny Animal keys and I think such a reawakening is actually happening, how strong will it be and how long will it last is anybody's guess but I'm arguing it won't have to budge far before you see prices rising for Four Color #178.
The 47th Overstreet price break for this book is $408/$1088/$2444/$3800 in the 6.0/8.0/9.0/9.2 grade splits.
Reasons to buy this comic book as an investment:
First Appearance Uncle Scrooge by Carl Barks
One of the big Disney/Duck/Barks keys