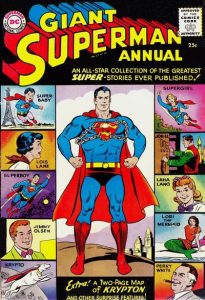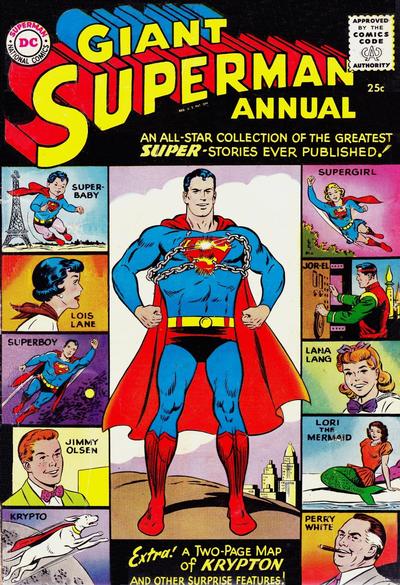 Superman Annual #1, DC Comics, October 1960.
In comic collecting Superman has led the way with some 1sts that both collectors and investors love. Action Comics #1 gave birth to the whole superhero genre that we all know and enjoy today while Superman #1 started off the 1st title given to a superhero.
This week's Undervalued Spotlight may not be a heavyweight like the two books mentioned above but it is another example of Superman charting a new course for superhero comics. This week's Undervalued Spotlight is Superman Annual #1.
Superman Annual #1 is the 1st DC Silver Age annual, its success was immediate as was its influence. I think there were 3 Superman annuals within that 1st year. Batman annuals started up quickly after the success of the Superman issues. By 1964 annuals had become a staple over at the fledgling Marvel Comics. Annuals also morphed into original content and annuals are an extremely important component of the Silver and Bronze Ages for collectors.
Yes Superman Annual #1 is reprints (though I think the 2 page World of Krypton map is new content) but I can argue that Superman #1 was practically all reprints too. The point I want to make is that this is early Silver Age DC, one of the toughest and most sought after publisher/era combos in the business and this is an influential 1st that paved the way forward, in other words it is an important publication.
The scarcity of Superman Annual #1 in grade will surprise you. The highest graded copy is a lone CGC 9.2 and there are only 11 copies graded CGC 8.0 or better.
So we've got true scarcity, a desirable publisher/era combo, a principle A list character, an oversized 84 page issue and a trend setting 1st. None of these things seem to be moving the marketplace though, there seems to be a collective ho hum towards this book. Recently a CGC 7.5 sold for about 80% of Guide, lower grade copies sell for about 40% of Guide!
I think the play here is an 8.0 or better, the 8.0 delivers true scarcity at what I think is a bargain price.
The 47th Overstreet price break for this book is $656/$1478/$2300 in the 8.0/9.0/9.2 grade splits.
Reasons to buy this comic book as an investment:
First Silver Age DC Annual
Influential trend setting publication