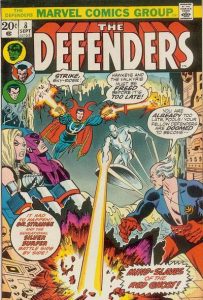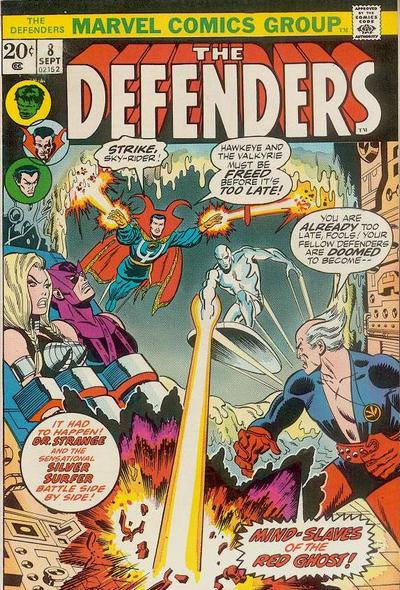 Defenders #8, Marvel Comics, September 1973.
It's been over a year since the last early Bronze Age Marvel has been featured on the Spotlight. I'm not sure how something like that happens but one is long overdue an I think Defenders #8 is more than worthy enough to end the drought and be this week's… Undervalued Spotlight.
Nothing reeks the Bronze Age quite like a 20 cent Marvel from 1972/1973, something about the aesthetics and paper stock of this era makes you just want to hold them, read them but thankfully not clip 'em and collect 'em (that came at the very tail end of 20 centers).
Defenders #8 is not just some random 1973 Marvel though. I've chosen Defenders #8 because it launches one of the epic and classic cross-overs in Marvel lore – the Avengers/Defenders War.
The Avengers/Defenders War jumps back and forth between Defenders #8 through #11 and Avengers #116 to #118 (I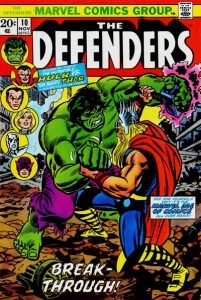 actually featured Avengers #118 in a Spotlight years ago). I'd say the most collected book in the set has to be Defenders #10 with its iconic cover. I'd also say the most neglected book of the cross-over is this week's Defenders #8.
Sometimes collectibles achieve a certain gravity, this gravity tends to keep growing, and when you mix this gravity in with time you set in motion something that leads to ever-increasing demand (did I just write that?). I think Marvel's first big cross-over arc has the gravity, I think the principle teams/characters are big league properties and I think the 1st book in the arc deserves much more attention than it has been getting.
Sal Buscema gives us a great cover with a heavy focus on the Silver Surfer, the dark topmast of the book makes high grade that much harder.
The Avengers/Defenders War arc is celebrated as comics' first great crossover battle royale.
The market is pretty inactive on Defenders #8 as of this post though one recent CGC 9.6 did really well. I think you can still find quality raw copies of this book. Look for tight, crisp, clean copies with good centering and good register
The 48th Overstreet price break for this book is $25/$40/$55 in the 8.0/9.0/9.2 grade splits.
Reasons to buy this comic book as an investment:
Start of the epic Avengers/Defenders War
Cheap, cheap, cheap
Great Sal Buscema Silver Surfer cover