The 48th Overstreet Price Guide arrived at comic shops a week and a half ago, and I finally had a chance to dive into my copy this weekend. I know I am probably known here as one of Comicbookdaily's bigger critics of this book, but I do love going through it and reading the market reports, columns, trends, and price changes in our industry from the dealer perspective. So here is a brief overview of what jumped out at me on my first brief reading of the book.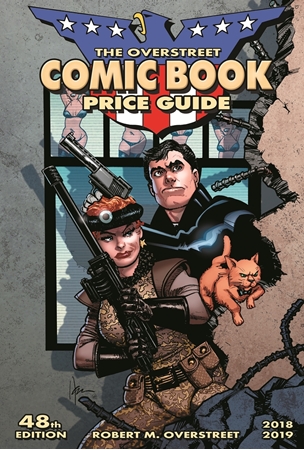 The overall health of the comic book market seems to be quite healthy from a dealer standpoint. New comics are still being led by stalwarts Batman & Spider-Man. Female characters like Captain Marvel, Catwoman, Spider-Gwen, Harley Quinn, and Wonder Woman have seen a big boost. Wonder Woman's successful movie gets a lot of the credit for this. I am certain this is a trend that will continue and current and future movies are going to keep this momentum going forward. Most dealers gave DC the edge over Marvel on current comics. The back-issue market was much stronger than new issue sales and was the reason for most of the optimism. Way too many dealer reports to cover here.
Increased interest in back-issue niches were reported in Canadian variant prices, UK 9d pence copies – which years ago dealers couldn't give away for half of guide, and one of my favourites – double covers. Canadian Whites are in here too with a lack of supply of books being the biggest hindrance to the market.
The Market Report with individual sales reported by Bob Overstreet always blows me away in terms of prices realized. Suspense Comics Mile High 9.2 $262,000 (as Chris Meli had previously pointed out) got my vote for the most over the top book for price realized in a sale. Other highlights Amazing Spider-Man #1 9.4 $131,450, Showcase #4 8.5 $155,350, and Batman #1 7.0 $334,600. My gag reflex is kicking in I have to go out buy a lottery ticket…. All joking aside some really mind-blowing prices reported once again in this year's sales of high-end books.
My favourite part of the reports are the annual lists of the top books by Age or Genre. I was pleasantly surprised by a couple of changes, puzzled by another, and continued being disappointed by another. Positive first.
This year's guide now contains a new Modern Age (20) list of its priciest books. Three cheers for Overstreet! This was way overdue and I am certain dealers have been clamouring for this for ages. It was on my Christmas wish list for Overstreet in a post I made last December, so sometimes wishes do come true. There is also expanded lists for the Bronze and Copper age sections from 10 to 25 books. No other genres were changed or deleted.
A second, but for me, a positive change was one book decreasing in price in the Bronze age. It was a small change ($50) but it happened to a former star comic Amazing Spider-Man #122 featuring the death of the Green Goblin. The Green Goblin's death was ret-conned in 1996 and Norman Osborn has been helping sell Amazing Spider-Man comics since then. The Green Goblin is now known for killing Gwen Stacey, but he did that in Amazing Spider-Man #121 which continues to distance itself from #122 in value. Good for Overstreet. I hope this is a move to showing more reduced prices where they are warranted in the future.
A puzzling book for me was Fantastic Four #5 whose value remained unchanged at $20,000. There were only 5 silver age books with no change in value, and it was the highest ranked at #20. I know changes this year will make next years guide valuations higher. My puzzle was that Bob Overstreet reported a sale of Fantastic Four #5 9.0 at $29,916! Wouldn't a sale like that move the dial on this book up a little?
Finally, the Horror section is still a train-wreck. Still no Tales of Suspense #1. All the books mixed in order last year and they remain mixed up this year.
The War Report celebrated its 10th anniversary and as always it was entertaining and informative. All ten of the previous war report highlights are reviewed. The 4th war report with the change in status of Our Army at War #81 and #83 was interesting. They changed the price information section to a ranking exercise like the military which was pretty cute and maybe they should leave it this way going forward.
Lots of other columns to read one of my favourites was the 1968 Marvel Age of expansion by Charles S. Noviskie. The John Verzyl Overstreet Advisor Award seems like a worthwhile exercise, honouring a very dedicated former Overstreet Advisor, dealer and collector who recently passed away.
Finally a thank you to our own Comic Book Daily's Walter Durajlija for his shout out to his team contributors here on the site in his Market report. Not required but appreciated just the same.
---