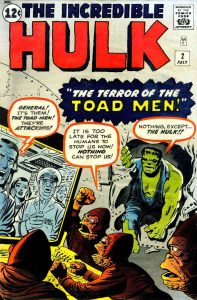 Incredible Hulk #2, Marvel Comics, July 1962.
I've always been a fan of second appearances! Have I not mentioned that Undervalued Spotlight #79 is the most read Spotlight ever? I think others like second appearances too.
His week I turn the Spotlight on a super heavyweight second appearance, Incredible Hulk #2.
Incredible Hulk #2, of course, features the second appearance of the Hulk, as an added bonus it's actually the 1st appearance of the green Hulk we know and love today (he was grey in the 1st issue, something about difficulty with the inks I believe). I'm not going to put too much weight on the green Hulk thing but it is an important and lasting development for the character so it's definitely something of note and something that can add value.
I had Hulk #2 on my on decklist for a while and though I may be a tad late with it there is still plenty of time I believe. The book has seen some appreciation in value over the past year but like I said above there's lots more room.
Silver Age Marvel keys are going through an almost violent price appreciation, just at the point where most of us old timers start getting uncomfortable with the value of these big keys they go and double up again, it's almost scary how well the big books are doing.
The jist of this pick is that these important 2nd issues will respond to the price appreciation their prior issues are experiencing. Honestly the only Marvel second appearance that can match Hulk #2 is Fantastic Four #2, I won't count Amazing Spider-Man #1 or Tales to Astonish #35 for obvious reasons.
The Amazing Spider-Man title usually leads the pack in terms of market developments and I've noticed that all early Spidey's are appreciating, Fantastic Four is now going through the same price increases for its very early issues. Hulk is now starting to join this party.
I didn't know this but you can grab a Hulk #2 in the 5.0 to 6.0 grades cheaper than you can grab a Fantastic Four #2 and even cheaper than an Amazing Spider-Man #2 (3rd appearance).
This is an ancient book! Hulk #2 is one of those sought after round 12 cent Marvels, it predates Amazing Fantasy #15 and Journey into Mystery #83 (both August 1962) and it pre-dated Pym donning a costume in Tales to Astonish #35 (September 1962). The only other title around at the time was Fantastic Four, the Marvel U was tiny! As far as I'm concerned this is a gem of a book and its loaded with upside.
I like CGC 7.0 on this book, it will get you into the top 100 copies, look for White or at least Off-White to White pages and make sure it's nice and tight and square with a good register!
The 48th Overstreet price break for this book is $1251/$3545/$8023/$12500 in the 6.0/8.0/9.0/9.2 grade splits.
Reasons to buy this comic book as an investment:
2nd appearance of the Hulk
1st Green Hulk
Kirby/Lee/Ditko creative team for the ages
Round 12 cent Marvel's are the cat's meow
Very early days Marvel