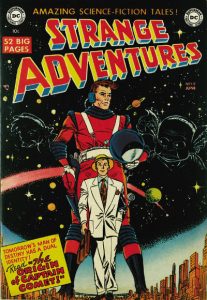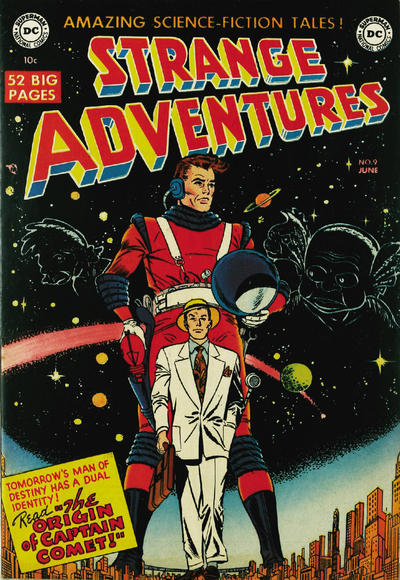 Strange Adventure #9, DC Comics, June 1951.
A friend of mine recently sent me pics of a very cool book he'd just picked up. It was a solid mid-grade copy of a book I used to have and it made me jealous so it has to be this week's Undervalued Spotlight: it's Strange Adventures #9.
Strange Adventures #9 features the origin and 1st appearance of Adam Blake a.k.a. Captain Comet. Adam Blake was born with mutant abilities that include telepathy, telekinetic powers, clairvoyant abilities and accelerated healing abilities. In Strange Adventures #9 a professor named Zackro convinces Adam Blake to use these mutant metahuman abilities for the common good and become Captain Comet!
Captain Comet is a very unique creation, he is one of the first mutant comic book heroes born with his abilities. He was also one of the rare superhero creations to come in the Atom Age, that late 40s to mid 50s period when superheroes all but disappeared from the comic book stands.
I saw somewhere online where they note Captain Comet as the second superhero introduced in the 1950s after the Knight (introduction in December 1950 in Batman #52). Having a closer look at the Knight I'm not going to really call him a superhero as he was more a British vigilante who modelled himself after the Knights of the Round Table, heroic I'm sure but not too superhero-ee. As far as I see it Captain Comet is the first true superhero creation of the 1950s boldly coming in the thick of the crime and horror comic book craze.
Captain Comet was a long-running feature in Strange Adventures running until issue #49 and he's still a part of DC continuity.
Check out that black cover by the great Carmine Infantino. Both Captain Comet and alter ego Adam Blake make strong cover appearances which is always a plus regarding value generation and collecting appeal. The black cover means high-grade copies are very difficult which makes it all the more puzzling as to why this book is dormant and flat. As I mentioned above I used to have a CGC 8.5 copy of Strange Adventures #9 a couple of years back, it was a crisp tight looking 8.5 and I had a heck of a time selling it for just below Overstreet Guide.
On the markets, the Strange Adventures floats in and around the Overstreet price breaks with a recent CGC 5.5 sale getting less than Guide while an 8.5 recently fetched a bit over Guide (maybe this was my old copy?).
This book will break out and it will break out soon, try to snag a copy, I think a smart tight looking 5.0 to 7.0 would fit the bill quite nicely.
The 48th Overstreet price break for this book is $816/$2241/$2850 in the 8.0/9.0/9.2 grade splits.
Reasons to buy this comic book as an investment:
Origin and first appearance Captain Comet
Cover appearance