Airboy #5, Eclipse Comics, September 1986.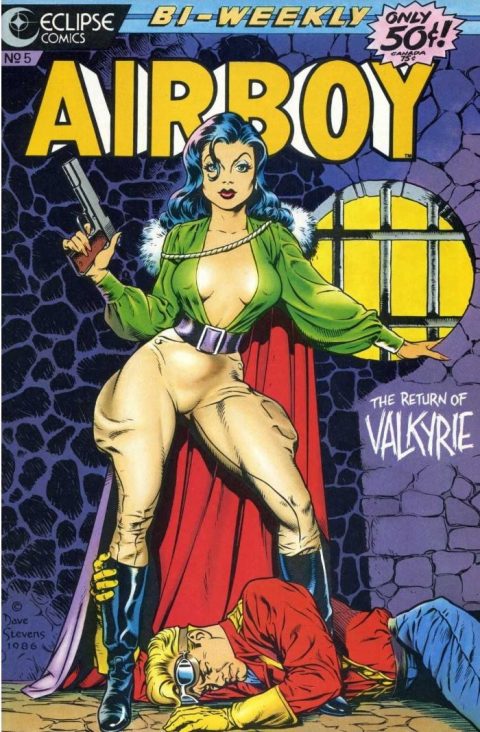 I was talking to a pal recently about how great an artist Dave Stevens was. Mr. Stevens died way too early at the age of 52 back in 2008. He did leave a lasting legacy, especially with his Rocketeer work and his resurrection of the whole Bettie Page mystique through his gorgeous and provocative pin ups. Dave Stevens has also been a big influence on many of today's artists including the great Adam Hughes.
We were going through a pile of Dave Stevens covers I found, unfortunately all in mid grades, when I got to Airboy #5 I knew instantly I had this week's Undervalued Spotlight pick.
A quick check of the book's performance on the markets confirmed my suspicions that Airboy #5 is a great buy at today's prices. CGC 9.8 copies sell for just over $100 while you can pick up a gorgeous CGC 9.6 for about $45. My play here would be a 9.8 White Page copy, I did see one online at $150 which is above current GPA but perhaps something to consider.
The CGC Census shows 66 copies graded at 9.8 and 17 graded at 9.6.
In the words of the great Yogi Berra Airboy #5 is 90% cover and the other half is artist. Dave Stevens is a beast, his work mainly happened in the Copper Age and he's just begging to be flushed out as one of the greats, I say jump in early on the Dave Stevens train. The cover, of course, is off the charts, simply stunning and a book that more and more collectors will be adding to the checklist.
The 48th Overstreet price breaks for this book are $6/$8/$10 in the 8.0/9.0/9.2 grade splits.
Strengths that make this comic a good long-term investment are:
Stunning Dave Stevens cover