Batman #200, DC Comics, March 1968.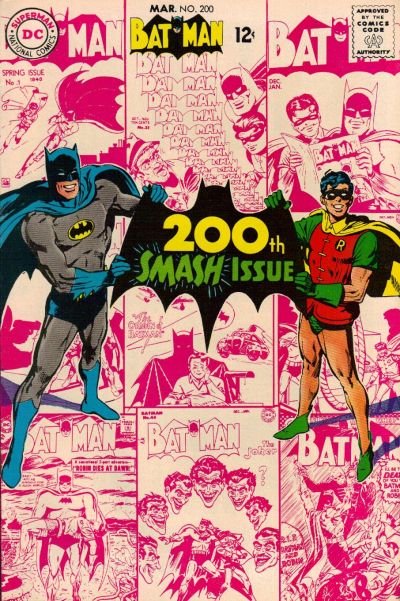 Here's another pick I've had in queue for a while. The book got hot decades ago but since then it's kind of hung around worth something because people just assumed it should be.
Well, things have been changing in the collecting community over the past few years and these changes should affect, in a positive way, this week's Undervalued Spotlight pick, Batman #200.
The changes in the collecting hobby have been discussed heavily on this site include the general move away from collecting runs and the move toward collecting special issues, issues with strong covers, issues drawn by highly collected artists.
Batman #200 boasts a strong cover by one of the best comic artists ever, Neal Adams, Batman #200 is actually Neal's first work on the Batman title. Just think how collectible the "Adams era" of Batman is, #200, 227, 232, 237, 244, 251, 255 and that's just naming a few.
Batman #200 is an anniversary issue that put the effort in to recognize and celebrate the feat, the collecting communities love these issues. Just think of how much more collectible Superman #100 (celebrated the 100th) versus Action Comics #100 which did not. Batman #200 is a worthy Anniversary issue.
So we've got this gem of an issue that's just kind of been sitting there for a while and we got market forces pointing towards the book, special anniversary issue, quality cover, master illustrator, embedded in a highly collected title and embedded within the run's most collected era and lastly priced at a point with plenty of room for appreciation.
A CGC 9.0 recently sold for $129 well below the $185 Guide value while a recent CGC 9.4 recently sold for $335, only 17% above the 9.2 Guide value.
My play here would be to find a CGC 9.4 White pager, the White pages probably get you into the top 10 percentile for the book and I'm thinking that's a nice perch to be sitting on.
The 48th Overstreet price breaks for this book are $84/$185/$285 in the 8.0/9.0/9.2 grade splits.
Strengths that make this comic a good long-term investment are:
Anniversary issue
Very recognizable Neal Adams cover
Embedded in the highly collected Batman title within the most collected era