Bunny #12, Harvey, November 1969.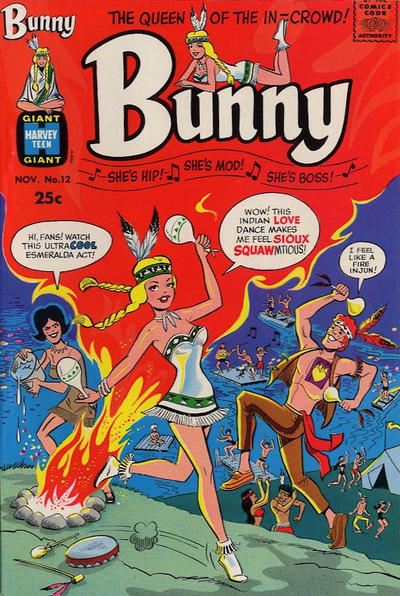 I was at Fan Expo in Toronto over the weekend and was visiting a dealer pal from Winnipeg at his booth. As we were chatting he says "hey Walt I have a Spotlight pick for you" to which I said "hey you read Undervalued Spotlight" to which he replied, "doesn't everybody". That's when I knew he was trying to be funny. Anyway he offered up a book and I liked it so much I will now present it to you as this week's Undervalued Spotlight, Bunny #12.
First off I want to say the whole Bunny run of 21 issues is highly collectible, full of great covers and all available at affordable prices.
Of course its the cover to Bunny #12 that makes it a comic to have. The cover is all about cultural appropriation and that's a bad thing these days. Remember the high school student who wore the beautiful Chinese silk dress to her prom? People are getting called out for wearing dreadlocks, actors are being called out for playing different ethnicities, it's all quite the social issue right now.
Bunny #12 is not the first comic to highlight this cultural expropriation issue but it is quite blatant in its approach and its collectability is helped by the great aesthetics the cover by Hy Eisman gives us, this is a good looking book!
Embarrassingly I don't have any sales data, the last sale was like 7 years ago but a Bunny #15 in CGC 9.4 recently sold for $62 so read the tea leaves yourself.
Bunny #12 belongs in what I think will be a growing collecting strain of comics, especially covers, that have not stood the test of time in a social context. I did a romance one for Girl's Love Stories #176 a while ago that related to the "me too" movement that belongs in the same collecting strain. The best part, for comic book collectors at least, is that there are tons of comics that will be "discovered" as clean fits into this strain. Let's start our collection with Bunny #12.
The 48th Overstreet price breaks for this book are $27/$44/$60 in the 8.0/9.0/9.2 grade splits.
Strengths that make this comic a good long-term investment are:
Cultural appropriation cover
Great looking cover