Batman #97, DC Comics, February 1956.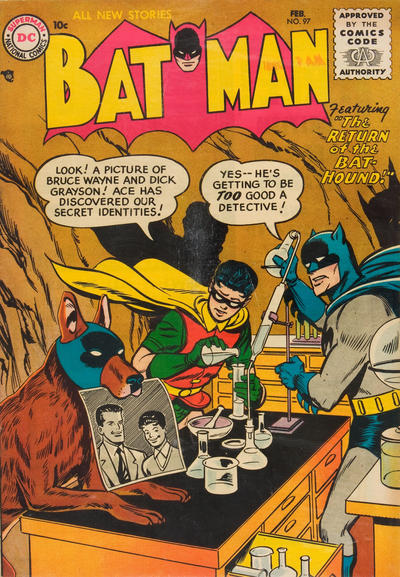 We were talking up the new Joker movie at the shop a few days ago, there seems to be good hype around the upcoming release so I challenged myself to dig out a Joker comic that has been overlooked. I came up with a few good candidates, one of which I'm presenting as this week's Undervalued Spotlight, Batman #97.
Batman #97, dated February 1956, is the first Silver Age appearance of the Joker. I poked around the internet and found a few sites that agree including dcuguide.com.
I could write pages on the massive marketplace that exists for first DC Silver Age appearances but time and space only allow me to note that while some are clear, long cherished and celebrated (Flash in Showcase #4, Green Lantern in Showcase #22) others seem newly embraced (Wonder Woman in Wonder Woman #98), while still others seem to be slowly gaining favour (Batman in Detective Comics #327).
In the Batman vintage comic market, which I should point out is probably the most stable and lucrative relative to all other superheroes, the villains hold special sway when it comes to first Silver Age appearances. We all covet Batman #155 (Penguin) and #171 (Riddler) and #189 (Scarecrow), but what about the Joker?
The Joker is the greatest comic book villain ever with maybe only a dozen or so superheroes able to match his weight in the media. What is the Joker's first Silver Age appearance? Well, it looks to be Batman #97.
Joker last appeared 16 months prior in Batman #87 (10/54) and he next appears in another 16 months later in World's Finest #88 (6/57) so it's not like there is a line in the sand of sequential appearances where we have to pick, there seems to be a clear and time isolated appearance we can hang our hat on.
The next question to ask is where this by default first Silver Age appearance should be celebrated and singled out. As I mentioned above, first DC Silver Age appearances are a massive collecting strain. Does Batman #97 deliver a definitive first Silver Age appearance that this collecting strain can rally around? As of this post, it appears no. A recent CGC 5.5 sold for $215 and a recent CGC 1.8 sold for $69. Even factoring in high Gerber levels of scarcity the book still seems dormant, recent CGC 7.5 sold for $840, a CGC 7.5 gives you a top 12 graded book, there are no higher grades than one lonely CGC 8.5.
Batman #97 does come to market and it doesn't do that well, I think it's a good idea to pick up a copy and hold it knowing you own the first Silver Age appearance of the Joker.
The 48th Overstreet price breaks for this book are $282/$597/$1024/$1450 in the 6.0/8.0/9.0/9.2 grade splits.
Strengths that make this comic a good long-term investment are:
First Silver Age appearance of the Joker
Second appearance of Bat-Hound
Scarce in higher grades