Chamber of Darkness #7, Marvel Comics, October 1970.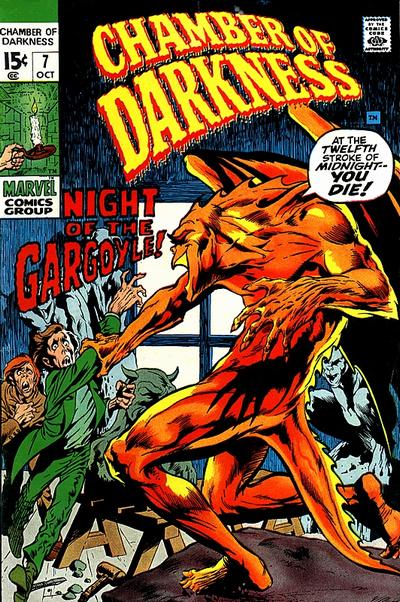 Happy Halloween everybody, this year I'm encouraging you to give out comics, not cavities!
There is one comic I'll recommend you don't give away on Halloween and that is this week's Undervalued Spotlight pick Chamber of Darkness #7.
Chamber of Darkness #7 features the first comic book cover drawn by one of the true masters of all things spooky, macabre and horrific, the great Bernie Wrightson. Mr. Wrightson was destined to draw frightful things being born just four days before Halloween on October 27, 1948. He left us too early in 2017 at the young age of 69. He would have celebrated his 71st birthday two days ago had he still been with us.
The late Mr. Wrightson did leave us quite the legacy, he was one of the greats, a Giant of the Bronze Age and perhaps THE Giant of the genre.
Bernie Wrightson covers are celebrated, revered and highly collected, there are literally too many favourites to pick from.
The Spotlight has often featured the first works of the great artists, most recently I shone the spotlight on the first works of Frank Frazetta and Todd McFarlane. Great artists earn themselves large fan bases and to these fans items like the artist's first comic book cover matter and they do become collectibles.
Bernie Wrightson's first comic book work, art for a backup story can be found in House of Mystery #179, a good book to pick up in its own right, but today I'm recommending we go after Wrightson's first cover. On the cover to Chamber of Darkness #7, we see right away those distinct lines and that distinct drawing style that would make him one of the greats.
The play here is a nice tight, crisp copy with high gloss and a good register. Go after a CGC 9.6 White pager if you can. There were 2 CGC 9.6 sales in the spring of 2017 at $158 and $179, bargains for such an important piece of comic art history.
The 48th Overstreet price breaks for this book are $35/$63/$90 in the 8.0/9.0/9.2 grade splits.
Strengths that make this comic a good long-term investment are:
Bernie Wrightson's 1st comic book cover
Late Silver/Early Bronze Age Marvel makes it all the more collectible