Mystery in Space #1, DC Comics, April/May 1951.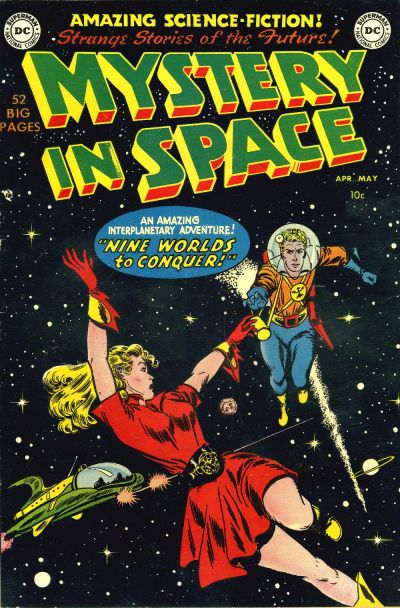 This week's Undervalued Spotlight has been on my radar for a while, two recent sales results have convinced me it was time to dust off and shine this week's Spotlight on Mystery in Space #1.
Mystery in Space #1 brings a lot to the table, it features the 1st appearance of the Knights of the Galaxy, an interplanetary police force from the 25th century. The team features Korvo, Commander Artho, Prof Vorko and the two characters featured on the cover – Lyle and Ora. 25th century? Wouldn't a cross over with contemporary Buck Rogers be the coolest thing ever!
Mystery in Space #1 also features 8 pages of Frank Frazetta art, the legend and the weight of Frazetta will only grow and comics with his art inside will continue to have healthy demand.
Check out Carmine Infantino's really strong cover featuring a jet black background making higher grade, high gloss copies coveted then add some well drawn GGA with a damsel in distress and you have a winning cover. That's a good looking book right there.
Something I have not focused on or alluded to enough over the last bunch of Spotlights is the enduring demand for #1 covers, 1st appearances are good and #1's are good, having a 1st appearance in a #1 is even better.
Mystery in Space #1 was also published in those scarce years for comics, by 1951 most of the super heroes had come and gone, crime and horror ruled the stands. DC's from this era are tough finds so any uptick in demand can affect pricing quite dramatically.
The recent sales I mentioned above included a CGC 8.0 selling for $2,600 in september and a CGC 7.0 selling for $1,440 last month. Both results were about 20% below previous sales.
Mystery in Space #1 is relatively scare with only 91 copies Universally graded, the book does trade though, there where two graded copies available on line as of this post.
Mystery in Space #1 is a strong Golden Age #1 of a long running and popular anthology series, I'd love jump into this book with a strong glossy CGC 6.0.
The 48th Overstreet price breaks for this book are $756/$2079/$4690/$7300 in the 6.0/8.0/9.0/9.2 grade splits.
Strengths that make this comic a good long-term investment are:
First appearance Knights of the Galaxy
Deep black cover making higher grade higher gloss covers coveted
GGA damsel in distress cover