Incredible Hulk #3, Marvel Comics, September 1962.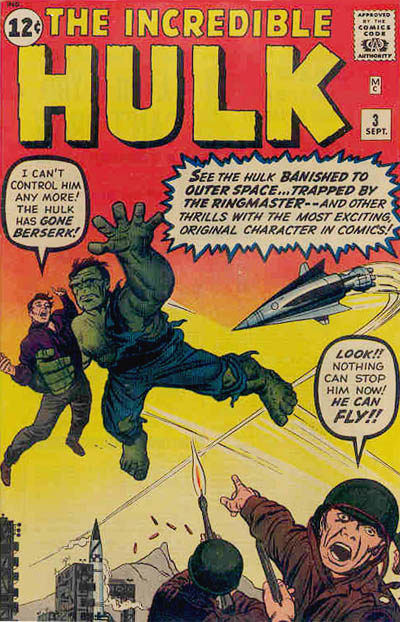 I'm staying on course this week and zeroing in on rock-solid books that still have room to grow, books that deliver blue-chip quality and still have some upside. This week I want to shine the Undervalued Spotlight on Incredible Hulk #3.
Incredible Hulk #3 is ancient Marvel, its September 1962 dates make it the rarest of things, a 1962 Marvel hero book. It has that coveted round 12 cent price on the cover, I've talked about the allure of collecting the round 12 cent Marvel covers, they stopped in February 1963 and collecting them is a real and expensive pastime.
Spider-Man and Thor were introduced a month earlier, the Fantastic Four and Ant-Man rounded out the Marvel Universe at this time. Hulk #3 is like a snapshot of the Marvel Universe minutes after the big bang ( Fantastic Four #1).
Incredible Hulk #3 has a standout Jack Kirby cover, for my money, it is the best cover of the Hulk #1-6 run, a big plus in a cover driven market.
Maynard Tiboldt, the Ringmaster makes his first appearance in Hulk #3, so does the Circus of Crime. Yeah this crime outfit didn't amount to much but from an investing in comics perspective, you can't beat having a first appearance in an issue, a first appearance has the potential to heat up a book's value at any time.
Cool fact, this is not the first time Jack Kirby drew the Ringmaster, it was the first time he drew Maynard Tiboldt as the Ringmaster but Kirby first drew Maynard's dad Fritz as the Ringmaster in Captain America Comics #5 back in 1941.
The markets have given Hulk #3 the respect it deserves but prices have retreated a bit on this book and I see it as an opportunity to jump in and grab a copy. A CGC 7.0 recently sold for about Guide, a recent CGC 7.5 fetched just above Guide while a recent CGC 9.0 sold for about 25% below the prior sale for the grade. As I said above, the market is a bit soft on the book at the moment and for me, there can be no better time to grab one. I'd like me a crisp tight CGC 8.0 with high gloss, I think it would look dynamite. A CGC 8.0 would put me in the top 6.5% of the census and get me into the top 50 copies out there, all for a bit more than $3,000, bargain.
The 48th Overstreet price breaks for this book are $744/$2046/$4623/$7200 in the 6.0/8.0/9.0/9.2 grade splits.
Strengths that make this comic a good long-term investment are:
First appearance of Ringmaster and the Circus of Crime
The best cover in the Hulk #1-6 run
Round 12 cent Marvel from 1962, early days and very coveted