X-Men #64, Marvel Comics, January 1970.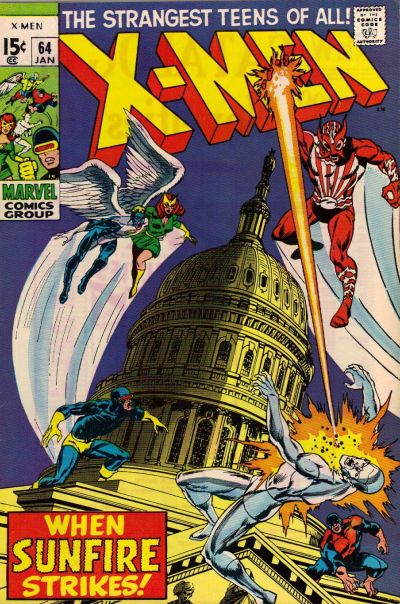 This week's pick was suggested by my pal Christian, his schpiel was good but it didn't have to be because he had me when he mentioned the issue, X-Men #64, which is this week's Undervalued Spotlight.
X-Men #64 dated January 1970 is indeed a harbinger. Our issue contains the first appearance of Sunfire, a Japanese mutant created by Roy Thomas and Don Heck. Thomas has said in interviews that he wanted to create a Japanese mutant, that he saw the X-Men as international by nature and not just white Americans. Len Wein took this approach when he changed the game with the international makeup of the new X-Men in Giant-Size X-Men #1 in the summer of 1975. Sunfire appears in Giant-Size X-Men #1.
Comic book value is still primarily driven by character creation, first appearances are still where it's at, though values assigned to covers have made massive gains character creation still rules. Character creation on the cover is even better and while Sal Buscema's cover to X-Men #64 isn't exactly poster material it is a good cover with Sunfire prominent on it.
I'm not sure if Sunfire is the 1st Asian superhero in American comics, I'll just assume he isn't but that he is one of the early ones. The fact that such an early example of an Asian superhero and the fact that he is associated with the most popular team in comics is where I see the opportunity for X-Men #64. I think this book should be given more reverence, carry more weight.
Sunfire is not just historic, the character is still strong and has lots of upsides, he appeared in a series with Big Hero 6 and as a character he has future development written all over him.
X-Men as a title was waning by 1970, the title actually stops creating new stories with issue #66 before going to reprints with issue #67. Poor sales translate to some scarcity as a collectible today. As of this post, there are only 418 Universal graded copies in the CGC census and picking up a CGC 9.6 gets you into the 50 best copies available.
I think the past focus on the Neal Adams issues in this era of X-Men had our issue #64 a bit neglected, not anymore.
Recent sales include $775 for a CGC 9.6, $450 for a CGC 9.4 and $350 for a CGC 9.2, the book has made some gains this past year but this is one of those books that has the ability to make major gains in the near future, even at the above-mentioned prices there is little downside and lots of upsides.
I think the play here is a tight crisp CGC 9.6 that's got White pages, high gloss and a good colour strike, you get a top 50 copy of a potentially important key for about $800.
The 48th Overstreet price breaks for this book are $72/$154/$235 in the 6.0/8.0/9.0/9.2 grade splits.
Strengths that make this comic a good long-term investment are:
First appearance of Sunfire