Superman #78, DC Comics, September/October 1952.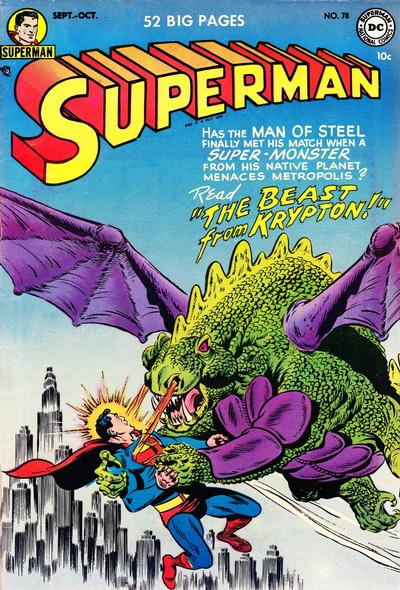 This week I had a guy walk into the shop with a couple of rat chewed old Superman comics from the early 1950s, these were barely hanging in there condition wise but they'd sell nice and cheap and fast because they were from that early 1950s – DCs are scarce – era. The worst book of the batch condition-wise, I'll generously call it a 0.5, was actually the best book of the batch collecting wise and the moment I saw it I knew Superman #78 had to be this week's Undervalued Spotlight pick.
Where do I start, probably at the most important part, Superman #78 fits the criteria of my highly scientific and market-proven technique for flushing out undervalued Golden Age comics. Great covers generate demand in today's cover driven market and like Col. Sanders' recipe the ingredients to D.E.I.G.A.C. (Durajlija's Equation for Iconic Golden Age Covers) are simple but together they are irresistible. Notice the small hero on the left and the big nemesis on the right – gold!
Superman #78 features the first appearance of Snagriff, the Kryptonian dragon. Monster covers are rare in the annals of Superman so this cover is a breath of fresh air and nicely stands out from the mundane covers around it and presents itself as a collectible onto its own. Yeah, I know it's a stretch but a Kryptonian dragon, how hard would it be to resurrect these things in some future storyline or animated series.
I did not know this until I started digging into this issue but Superman #78 is where Lois Lane and Lana Lang first meet. Yes, we have this cover to curse as fodder for a bunch of lame future covers, though there were a few good catfight covers if I recall correctly.
Superman #78 is also the last of the 52-page issues, back when you really got 10 cents worth of comics. There have been articles written on how comics going from 10 cents to 12 cents or from 15 cents to 20 cents hurt kids allowance money but what about losing 40% of your content and still paying the same price!
Like I mentioned above, this era of DCs is ridiculously hard, the highest-graded copy of Superman #78 is an 8.0, there are 3 copies of Action Comics #1 graded higher. This scarcity makes current market prices all the more puzzling, recently a CGC 7.5, one of the top 4 copies out there, sold for $1,020, a solid and for this book considered high-grade CGC 6.0 recently sold for $320. Bargains, both.
I'd love me a tight, crisp CGC 7.5, with high gloss and a good register, maybe my next walk in will have one?
The 48th Overstreet price breaks for this book are $603/$1039/$1475 in the 6.0/8.0/9.0/9.2 grade splits.
Strengths that make this comic a good long-term investment are:
First appearance of Snagriff
First Lois Lane and Lana Lang meeting
D.E.I.G.A.C.!