Incredible Hulk #104, Marvel Comics, June 1968.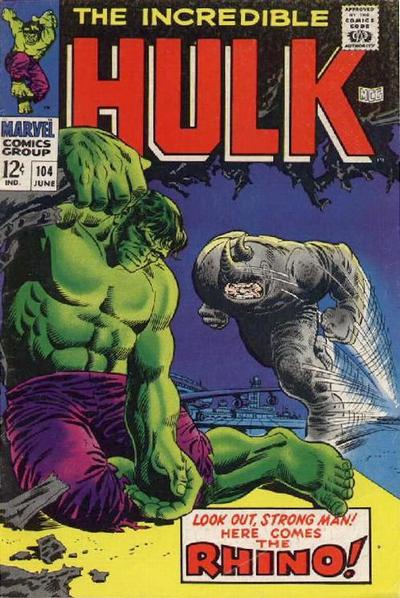 I had a little run of Hulk's come in last week and there were some nice tight copies in the 110s and 120s to admire, these were stunning copies and we'll send a couple down to CGC to get graded. These books reminded us of a gorgeous Incredible Hulk collection we picked up maybe 8 years ago, stunning all the way from #102 and the funny thing is we all said the same thing – "remember that #104!". Do I ever remember it, it's one of those comic books that I knew I made a mistake the moment I sold it. I guess there's no suspense now, this week's Undervalued Spotlight shines on Incredible Hulk #104.
I think that over time Incredible Hulk #104 will develop into one of the 'must-have' Hulk comics based on the power of the Marie Severin cover. We all know it is a cover driven market right now and things won't be changing any time soon.
While doing the Covered 365 project here on the site I looked at a lot of Hulk covers and it's amazing how much the cover appeal depends on the rendering of Hulk's head and face. Marie Severin's Hulk face and Hulk's body are in sync with the Hulk we see in the big movies, it's the definitive Hulk look today.
The best Hulk covers are where he is facing off against big bad bruising villains, the kind of villains that are as big and as strong (almost) as he is, this is what we want to see, Abomination, Juggernaut and famously on the cover of Incredible Hulk #104 the Rhino.
That deep dusk blue background sets the mood nicely as the Rhino charges the seemingly helpless Hulk, good composition by Marie Severin here. We don't get many Silver Age superhero comic covers drawn by women and even a few classic covers like this on Hulk #104, I think it makes the book all the more collectible.
Incredible Hulk #104 fits nicely into that 'affordable quality' portion of your portfolio, we get a blue-chip character and an aesthetically equal villain combine to give us eye candy that we'd all love to show off on a wall.
On the markets, Hulk #104 is getting about Guide plus grading fees for CGC 8.0 and CGC 9.2 copies. I may be a bit late on this one as it looks like the last CGC 9.4 copy set a new high. I think the play here is a gorgeous CGC 9.6 White Page gem with high gloss, square to the corners and a clean register.
The 48th Overstreet price breaks for this book are $64/$132/$200 in the 8.0/9.0/9.2 grade splits.
Strengths that make this comic a good long-term investment are:
Classic Hulk/Rhino cover
Marie Severin cover