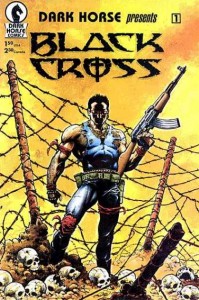 Dark Horse Presents #1, Dark Horse Comics, June July/1986
Back in February 1935 a guy named Malcolm Wheeler-Nicholson published a comic called New Fun Comics. New Fun contained funny animal stories and western stories that are of no real significance today. What makes the book significant is that it is considered the first DC comic book. In the 40th edition of the Overstreet Comic Book Price Guide it is listed as the 32nd most valuable comic (and that's just using the VF 8.0 grade since none are known to exist above this grade). DC of course went on to become a giant in the industry, and still is to this day.
In July 1986 a guy named Mike Richardson published a comic called Dark Horse Presents #1. This first issue featured the 1st appearance of Concrete by Paul Chadwick. Concrete garnered critical acclaim and helped turn the title into a success. To Richardson's credit he kept the pedal to the metal. Dark Horse's success grew as the company acquired licenses to popular franchises like Star Wars and Conan. The company also introduced successful franchises like Sin City and Hellboy.
My point here is that there should be value attached to such a book as Dark Horse Presents #1. I'll go out on a limb and say that over half the guide value attributed to New Fun comes out of the fact that it's the book that launched DC. Dark Horse Presents #1 is a historically significant book. Dark Horse Comics grew and challenged the big two (Marvel and DC) at a time when hotshot publishers like Valiant and Image were either going under or losing market share. Today Dark Horse remains a strong alternative to Marvel and DC. The comic book industry needs publishers like Dark Horse Comics.
The 40th edition of the Overstreet Price Guide shows $8/$11/$14 as the splits at the 8.0/9.0/9.2 grades.
Strengths that make this comic book a good long term investment are:
1st comic book published by a major publisher
1st appearance of a critically acclaimed character (Concrete)
The weight of Dark Horse's accomplishments since should weigh in on the value of this book
Super cheap because not enough people have caught on, yet