Iron Man #118, Marvel Comics, January 1979
This comic boasts a crack creative team that includes Bob Layton, John Byrne and David Michelinie (David Michelinie also figures prominently in my Undervalued Spotlights 16 and 62). The 17 page "At the Mercy of my Friends" story in Iron Man #118 features Nick Fury and SHIELD and introduces a character named James "Rhodey" Rhodes.
Iron Man and James Rhodes first met while on separate missions in Vietman. Rhodes, a shot down pilot and Iron Man, who just escaped from a POW camp team up and destroy a Viet Kong missile base. Later Tony Stark offered Rhodes a job as his personal pilot.
Rhodes actually becomes Iron Man in issues #169 and 170, stepping in while Stark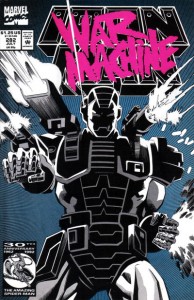 relapses back into alcoholism. Later Rhodes becomes the War Machine (Iron Man #281-283). War Machine has proved to be a very popular character and should figure prominently in the Marvel Universe in the coming years.
Actor Don Cheadle played Rhodes in the 2010 Iron Man 2 film and will reprise the role in the Avengers feature film due out in 2012.
The 40th edition of the Overstreet Price Guide shows $11/$16/$20 as the splits at the 8.0/9.0/9.2 grades.
Strengths that make this comic book a good long-term investment are:
1st appearance of a character that is growing in popularity
Strong creative team adds weight to the book
Embedded deep into one of the more collectible Marvel titles
Cheap guide value gives this comic book lots of room to appreciate