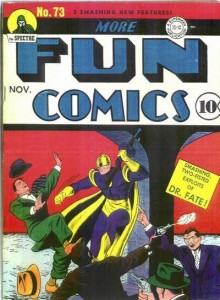 More Fun Comics #73, DC Comics, November 1941
Now here's a comic book that should be getting a lot more respect and a lot more attention.
More Fun #73 introduces two major DC characters, Aquaman and Green Arrow. Both were filler stories for a title that was at the time riding the success of the Spectre and Dr. Fate. Mort Weisinger gets script credits for both characters, penning an 8 page story for each. George Papp drew Green Arrow while Paul Norris gets pencil credits for Aquaman.
Aquaman is of course DC's underwater hero, he's mostly seen as an answer to Timely's Sub-Mariner and Like the Sub-Mariner Aquaman kicked some Nazi butt during the early 40s. Aquaman was revised for the Silver Age and was a founding member of the Justice League of America (JLA'S 1st appearance in Brave and the Bold #28, Mar 1960).
Green Arrow probably made his greatest mark during the famous Green Lantern/Green Arrow run written by Denny O'Neil and drawn by Neal Adams (Green Lantern #76-89, Apr/70 to May/72).
Aquaman and Green Arrow are two characters that DC just refuses to give up on. Both have continually been carrying their own title, mini-series and making numerous cameos for the past 25 years.
Aquaman is playing a central role in DC's current Flashpoint event. Flashpoint is of course setting up what will be a total restructuring of the DC Comic Book Universe.
In September 2011 DC will start everything anew and both Aquaman and Green Arrow figure prominently in this reboot. Aquaman will be a founding member of DC's new flagship title Justice League. Justice League will feature a dream creative team of Geoff Johns and Jim Lee.
Geoff Johns will also be writing Aquaman #1 due out this September. Johns is teaming up with artist Ivan Reis for this one. The Reis/Johns combo are the guys that propelled Green Lantern to a first tier title so watch out.
JT Krul will be writing the new Green Arrow book with Dan Jurgens providing the art.
Aquaman's and Green Arrow's stars are rising while the same cannot be said for the Spectre and Dr. Fate.  The fact More Fun #73 gave us 2 lasting characters is actually quite unique.
I've often talked about super heroes needing to have the ability to make the generational jumps that keep the property front and centre in the world of comic books and pop culture in general (movies, gaming, toys etc.). Green Arrow and Aquaman have been successfully making these generational jumps while the comic world is littered with heroes that have not been able to stand this test of time, Black Terror, Silver Streak, Blue Beetle, Doll Man, Dr. Fate, Spectre, Captain Marvel and Shield just to name a few off the top of my head.
Taking a look at the $135,000 price tag for More Fun #52 (1st Spectre) and even the more modest $31,000 value attached to More Fun #56 (1st Dr. Fate) we see the glaring discrepancy. Compare to Timely's Sub-Mariner #1's $64,000 (which is not even Sub-Mariner's 1st appearance).
A CGC graded 8.0 and a CGC graded 9.0 sold within the last 2 years and they basically each got guide. Cheap!
The 40th edition of the Overstreet Price Guide shows $11,815/$20,908/$30,000 as the splits at the 8.0/9.0/9.2 grades.
Strengths that make this comic book a good long-term investment are:
1st appearance Aqauman
1st appearance Green Arrow
Golden Age key in the highly collected More Fun run
DC's new title re-launch will feature both characters prominently
Strong creative teams may increase the stock value of these two heroes
Comparatively cheap for a big key