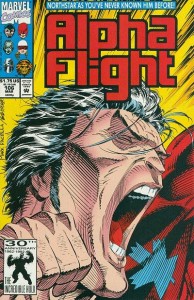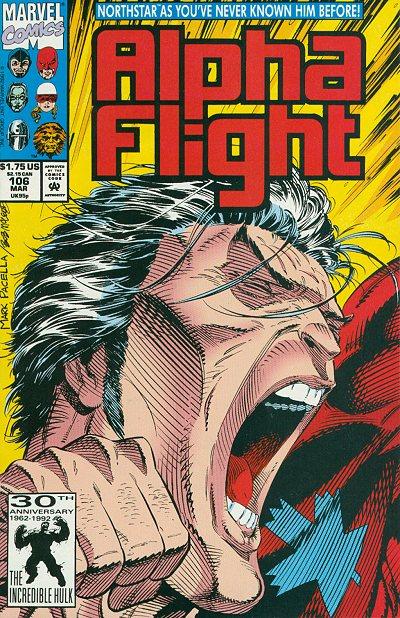 Alpha Flight #106, Marvel Comics, March 1992.
The history of comic books could easily serve as a rich resource for any anthropologist. Studying comic book history can shed light on the behavior, the social and cultural development of humans in the 20th and even this 21st century. Women's liberation, civil rights, race relations, social issues, drug abuse and sexual orientation are just a few of the social issues comic books have tackled and continue to tackle.
A last week DC Comics announced that they will be introducing a new gay character to the re-launched Teen Titans. Bunker is openly gay and his sexual orientation is to play a major role in the character's persona. His premiere is getting some good press.
Archie Comics' Veronica #202 received a boat load of press back in September 2010 for introducing Kevin Keller, the first openly gay character in the Archie world.
Of course homosexuality in comics can be traced back decades. Though coming out openly would not be an option back in the day there was enough innuendo and accusation to keep everyone on their toes (my last spotlight touches on this).
The transition from the innuendo of the 50s to the openly gay characters of today was slow and sporadic; most of the progress was made in the late 1980s and early 1990s.
DC did some groundbreaking in the late 1980s with minor characters like Extrano and they touched on the same sex subject through John Constantine in the Hellblazer and Swamp Thing titles in 1988 and Neil Gaiman's Sandman series also explored the issues.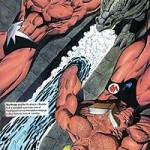 The biggest step was taken in 1992 by Marvel though when in Alpha Flight #106 team member Northstar came out and openly said he was gay. I've read that Alpha Flight creator John Byrne had written Northstar as a gay character from the onset. Northstar 1st appeared in X-Men #120, (April/79) the issue in which the Alpha Flight team made their debut.
Northstar is of course Jean-Paul Beaubier, the Montréal native whose history included skiing and Quebec separatist fighting (not necessarily in that order). Jean-Paul and his twin sister Jeanne-Marie were orphans who both ended up on the Alpha Flight team (Jeanne-Marie is Aurora).
Northstar was the first major gay character in mainstream comics (read that Marvel and DC) and Alpha Flight #106 really does need to be mentioned in the same sentence as comics such as 1941's All-Star Comics #5 (1st Hawkgirl/1st female super heroine) and 1966's Fantastic Four #52 (1st Black Panther/1st African American superhero). Its funny how these three barriers needed about 25 years of distance between them and it's also important to note that sexual orientation needed the most time to conquer, over fifty years after gender and over 25 years after race.
We have finally arrived at a time where comics are truly inclusive and engaging all aspects of our society because, well, all aspects of society enjoy comic books. The new Ultimate Spider-Man is no longer a white teen-age boy, gay relationships are commonly explored in today's comics, mixed marriages no longer even raise an eyebrow etc. Today's comics speak to all of us and that's a very good thing. To get to where we are we needed benchmark issues like Alpha Flight #106.
The 41st edition of the Overstreet Price Guide lists $3.50 as the value at the 9.2 grade.
Strengths that make this comic book a good long-term investment are:
1st major comic book character to openly come out and say he is gay
Ridiculously undervalued for such an important comic book
An historic marker, a comic that tried to push forward social boundaries
This comic should be in your collection