Marvel Treasury Edition #13, Marvel Comics, 1976
Merry Christmas.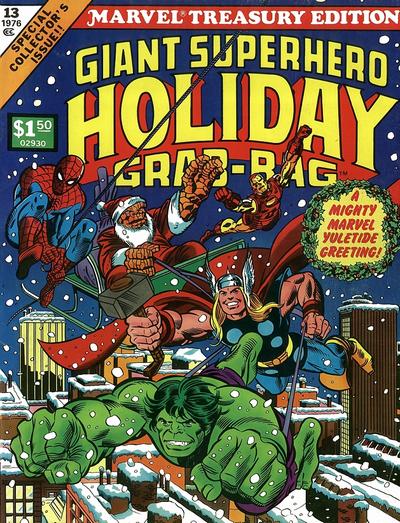 Last year for my Christmas post I went with an impossible to get "Canadian White" with a Christmas theme, apologies, perhaps I could blame it on Ivan!
This year I thought I'd make amends and pick something we could all hunt down and enjoy and not have to break the bank doing so.
I'm channeling the Christmas Spirit through Marvel Treasury Edition #13, the Giant Superhero Holiday Grab Bag.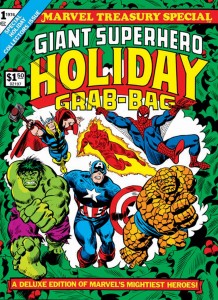 Marvel Treasury Edition #13 was actually the 3rd Marvel Treasury holiday grab bag. Yes in 1974 Marvel released the 1st called Marvel Treasury Special Giant Superhero Grab Bag. That 1st release has my least favorite cover. Look at it! Where's the Christmas spirit fellas? Actually the issue feels rushed, like someone at the House of Ideas had the good idea in late November. Inside you got a table of contents page highlighting the reprints included.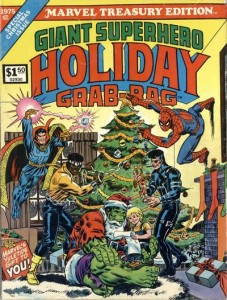 Marvel Treasury Edition #8 released for the 1975 Christmas season was a bit of an improvement, at least it had a holiday themed cover but inside it was still basically straight reprints.
Marvel never really got it right though until their third try in 1976 with Marvel Treasury Edition #13.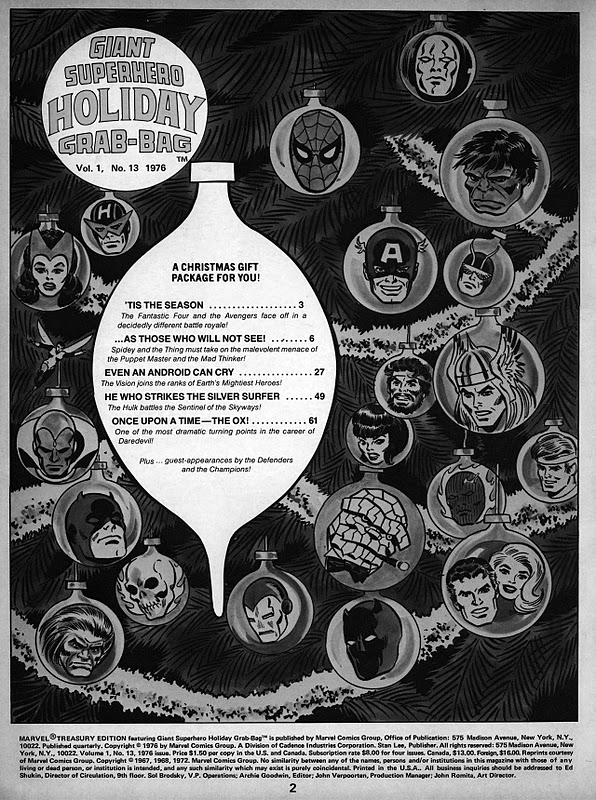 Yes we got our reprints, Team-Up #6, Avengers #58, Tales to Astonish #93 and Daredevil #86, but this time they were introduced and each was set up by an original story that totaled 7 pages. This original 7 page story was written by Roger Stern (Amazing Spider-Man #252 among millions of others) and drawn principally by George Tuska.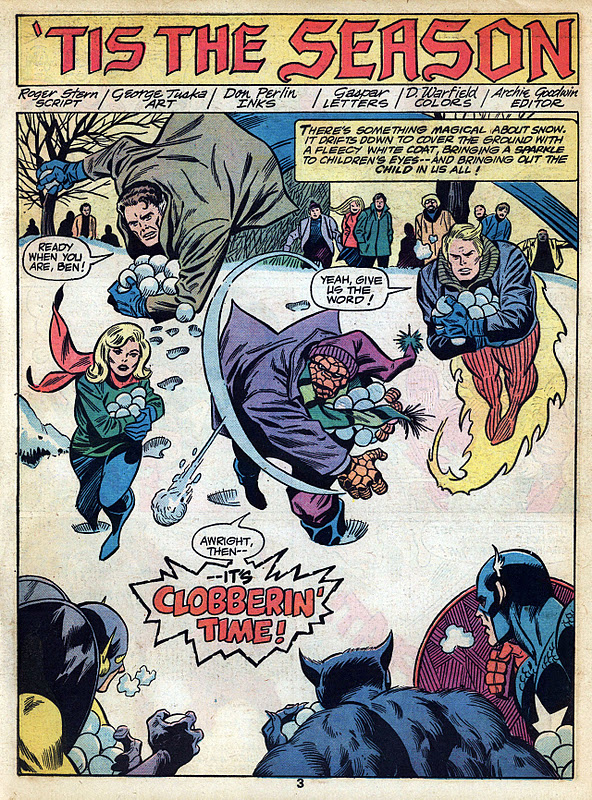 Tell me you can get more Christmasy than a story featuring a snowball fight between the Avengers and the Fantastic Four and I'll call you a liar! Great stuff with Spidey sneaking into the mayhem too.
This was the 1st one I picked up as a kid, I was 12 going on 13 at Christmas 1976 loving me some Spidey, Bay City Rollers and Six Million Dollar Man (Al Green would come much later). I wish I could remember where I picked it up but that part escapes me. I never found copies of the 2 earlier Treasur Editions until years later and I can't remember where I picked those up either but it was most likely my just opened local comic book shop.
Today I have solid VF copies of each, these are great nostalgia triggers for me and it's the Treasury #13 that remains my favorite.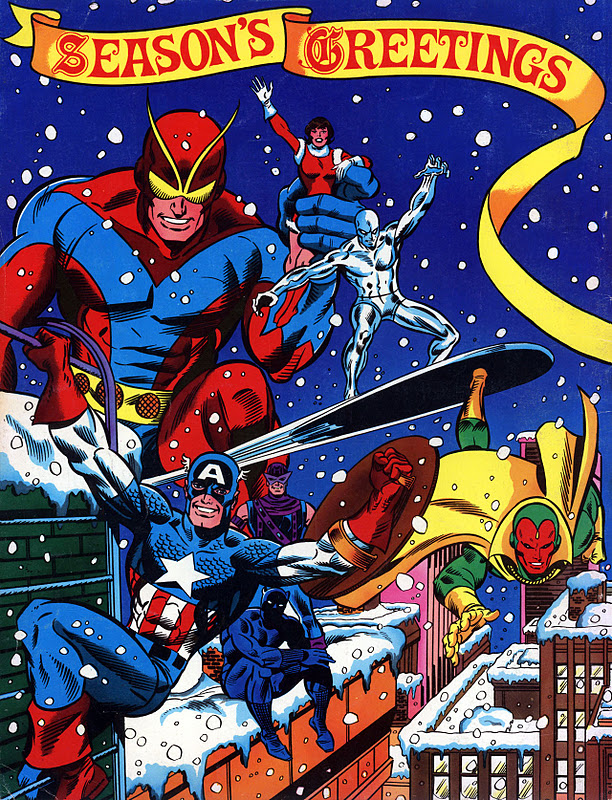 Treasury Editions are hard to collect, I mean they are so big it's hard to fit them properly in a tidy little corner with the rest of your collection. Trust me though, they're worth it, for these I gladly leave the conformity zone.
I'd recommend you picking up one of each but if you choose to get only one then get Marvel Treasury Edition #13.   Ho Ho Ho!
The 43rd edition of the Overstreet Comic Book Price Guide shows $14/$20/$25 as the 8.0/9.0/9.2 price splits.
Strengths that make this comic book a good long-term investment are:
The FF and the Avengers have a snowball fight, Nuff Said!
Great slice of the 1970s