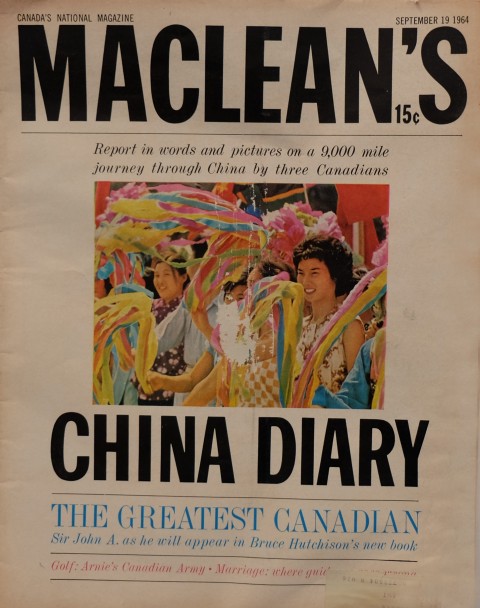 It was 50 years ago this week that the earliest article I know of on Canadian WECA comics appeared in the Sept. 19, 1964 issue of Maclean's Magazine.  It was written by Alexander ("Sandy") Cameron Ross as part of a series called "A Maclean's Flashback" and its title was "A Fond Portrait of those Wild Wartime Comics." Ross was perhaps best known for founding Canadian Business magazine in 1977 and posthumously has had a national award 'The Alexander Ross  Award for Best New Writer' given out by the National Magazines Awards Foundation.
This piece was done twenty years after the time of these comics; yet remember how early it still was. This was just about six months before Governor General Vanier and Prime Minister Pearson lowered the Red Ensign on Parliament Hill and raised our new Canadian Maple Leaf flag. It was three years before our grand Centennial celebrations and the showcasing of Canada to the rest of the world at Expo 67 and a full eight years before that galvanizing 1972 Hockey Summit.  Canada grew so much in those short years and has grown taller since.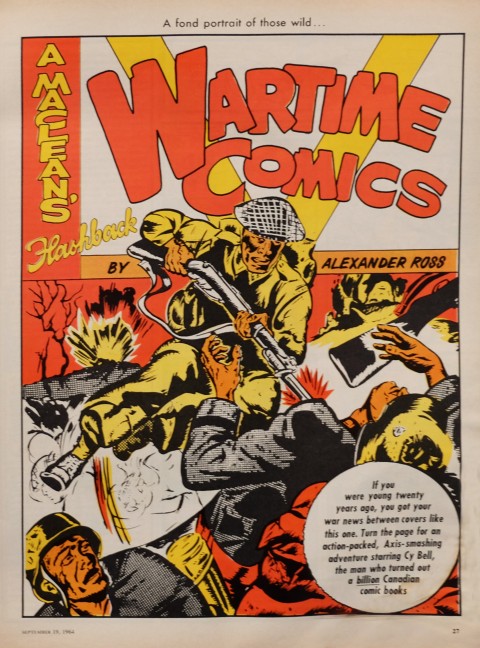 Ross, born in 1935, probably knew the later WECA books best and wasn't yet thirty himself when he wrote this article. It is almost exclusively an interview with Cy Bell, though a large graphic on the first text page reprints a four page story about Donald Gordon from a Canadian Heroes comic that was published by Educational Projects out of Montreal.  In this way, it foreshadows the same general misconception that was the underpinning of the first hardbound volume on Canadian wartime comics over  half-a-dozen years later and this was Hirsh and Loubert's The Great Canadian Comic Books (Peter Martin, 1971). This misconceived presupposition was that Toronto's Bell Features were the beginning and end of Canadian war-time comics in Canada.
Another Ross, Ted Ross, must not have seen the 1964 article, but he did respond to Maclean's Nov. 8, 1971 article on the release of the Hirsh-Loubert book with a brief but scathing note bringing attention to this.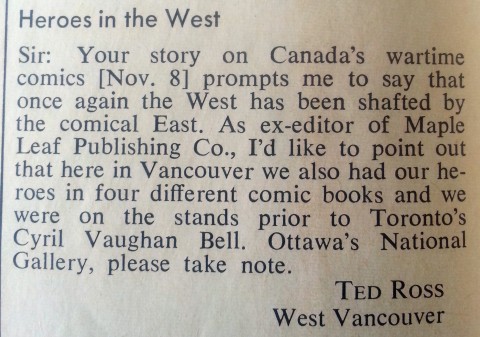 One of the central points that Ross makes is that even though the production values of these Bell Features comics wasn't generally that great (in terms of writing and art), the characters and stories became embedded in the psyches of those kids who grew up with them.  This was the shiny side of the dime, the dull side, however, was that  anybody outside this window really didn't know much about them at all.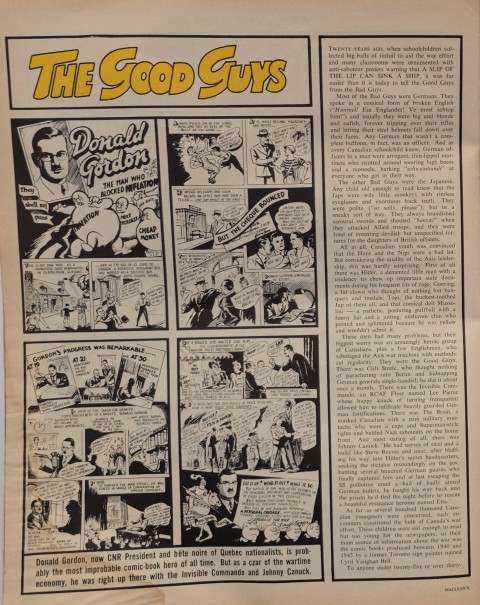 Ross informs us that the whole Bell Features comic book enterprise began when one of Cy Bell's young sign painters, Edmund Legault, approached him with a few finished stories that he'd done about a swashbuckling, 18th century character he had created called Dart Daring. With the comic book field  fairly wide open without the presence of American comics in Canada, Bell decided to jump in and Legault became the central writer and artist for a comic book called Wow Comics which had a first issue cover date of September, 1941. He also tells us that by the war's end, Cy Bell's presses were bigger than the Toronto Star's, that Bell was employing over 60 artists, and that the company was producing over a hundred thousand comics a week.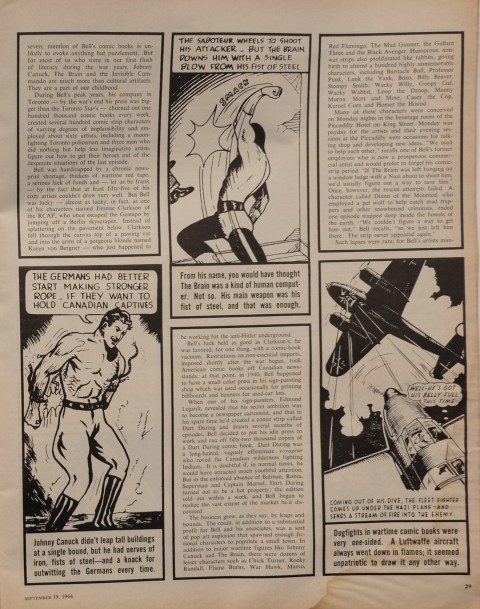 From looking at the Cy Bell papers up at the Library and Archives of Canada in Ottawa, I was most impressed with the constant struggle he was having finding enough newsprint to produce the number of comics he wanted to put out and the fight for full four-colour printing presses that could create comics that could rival the impending tidal wave comics that would flood into Canada once we took our thumbs out of the political dyke that was holding them back.
Cy Bell went on to purchase and operate a large resort hotel in Crystal Beach after he turned over his comic business to his brother in the late forties. He was still running the hotel at the time the article was written.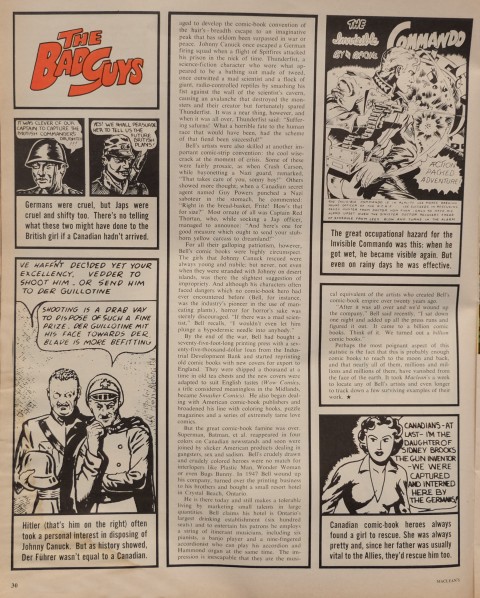 Towards the end of the article, Ross quotes Cy Bell as saying the following:  "After it was all over and we'd wound up the company… I sat down one night and added up the press runs and figured it out.  It came to a billion comic books. Think of it. We turned out a billion comic books."
For me, Ross makes his most telling comment at the close of his article. Here he says that even though Bell put out a billion comic books "…nearly all of them, millions and millions and millions of them, have vanished from the face of the earth. It took Maclean's a week to locate any of Bell's artists and even longer to track down a few surviving examples of their work." If they were that scarce already by 1964 when Silver Age Marvel was hitting its stride, what hope do we have of finding significant collections of them now?
——–
On Saturday coming (Sept. 20), Cy Bell will be one of two (the other will be Edmond Good) Canadian Golden Age honorees inducted into the Canadian Comic Book Creator Hall of Fame at the 2014 Joe Shuster Awards presentation ceremony.  This will take place at Back Space Toronto, 587A College St. (2nd floor), Toronto.  This will be a great night if you can make it out. The ceremony begins at 8:30 PM. I'll report on it in next week's installment.