Yesterday marked 1 year and 6 months since my Undervalued Spotlight #103 post.
In that post I put the spotlight on Maple Leaf Publishing's Better Comics #1 and talked about the importance and the scarcity of the book.
I remember not being able to find a color photo of the issue, thus the black and white image on the post.
A lot has happened over the past 18 months.
I'd say things really started to break in June of 2012 when I was contacted by Vernon Miller's grandson Brent Miller. Vernon Miller created Better Comics #1 and when his grandson Brent came across a small stash of his grandfather's comics Brent jumped on the internet to find some information on the books. There really wasn't much info available on the comic but Brent did find my post.
Canadian Whites comic collector Stephen Lipson and I approached Brent about purchasing some of these comics. Lucky for us there were 3 copies of Better #1 in Mr. Miller's possession, Stephen got 1, as did I and the Miller family kept the 3rd (the one signed by Vernon Miller).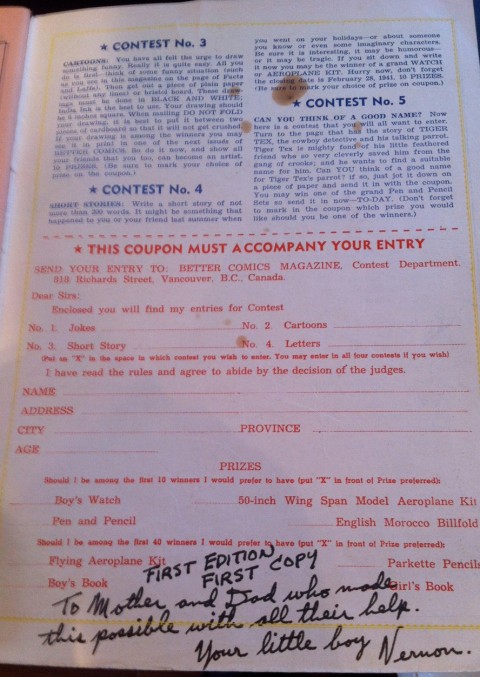 The books arrived just in time for the August Fan Expo of 2012. I still remember how excited Stephen and I were. We were as giddy as school girls.
Our 2 copies were sent down to CGC for grading and mine got a 7.0 while Stephen's got a 6.0 (I paid more to have the nice copy). There were 12 other comics in this deal, all Maple Leaf Publishing issues including more issues of Better Comics and some Lucky Comics. These are the pride of my small "Canadian Whites" collection.
At about this time Ivan Kocmarek and I started discussing the possibility of doing an indexing project on this era of Canadian comics. Ivan was still teaching but was excited about his approaching retirement just a few months away.
By November of 2012 Ivan and I were joined by Stephen Lipson and Jim Finlay. The 4 of us held our first meeting and the Canadian Whites Heritage Project was born.
In January 2013 Ivan started his White Tsunami blog I'm now posting on. Ivan has in 5 months shed more light on this era than perhaps has been shed in the last 40 years. These posts are incredibly invaluable and are educating seasoned collectors as well as people with general interest in the subject. Thanks for these Ivan!
During these past 18 months we've met a lot of people with a keen interest in these comics, many of these people have very respectable collections of "Whites" themselves though not surprisingly none want to part with their books.
A few odds and sods come up on eBay now and again but there were no real new discoveries of note since Vernon Miller's stash surfaced.
I never visit the CGC forums. As a vintage comic reseller I really should but who has time!!
I do pop into comicbookdaily.com (CBD) every day though to check traffic to the site and see who has posted what that day.
About 3 weeks ago I logged on to CBD and notice that the 2nd most active post that day was Undervalued Spotlight #103. Why is an 18 month old post getting so many hits?
I checked and the hits were coming from a CGC Forum thread.
Dave Stuart posted the thread and provided some nice scans of books he had at the Calgary Comic Con. All the comments on the board were positive and complementary, everyone patting Dave on the back for a nice find.
Over in the private correspondence section of the forums Dave was getting emails from several prospective buyers, I was one of them.
Within a few days Dave told me the books were mine and I was ecstatic. When the books came in they were as good as I thought they'd be. Better Comics #6 has a bit of water damage but the rest were stellar, conservatively ranging from 7.0 to 9.0.

To my knowledge this is the nicest run of early Better Comics that exists. They seem to be from an original owner collection based on their grade and color consistency but who knows. Dave was unaware of their history.
Within a day of getting the books I began receiving emails, people interested in buying these books. To be honest I was surprised with the size of the offers. I was in a position to turn a quick profit but I just can't get myself to part with these books.
This is an historic find as far as I'm concerned and I hope to use this run, starting with this post, to further raise awareness for this era of Canadian Comics.