In November of 2011 I posted Undervalued Spotlight #103 featuring Better Comics #1. The book was published in March 1941 by Vancouver's Maple Leaf Publishing. I picked the book for several reasons: it is extremely rare, it is Canada's 1st homegrown comic book and it features Canada's 1st superhero in Iron Man. All good things!
In the post I identified Vernon Miller as the artist that created the Iron Man character.
In the summer of 2012 I received a very interesting email from a gentleman named Brent Miller. Brent Miller is the grandson of Vernon Miller. Brent had read my post with interest and in his email he mentioned that his father (Vernon Miller's son) had a small stack of comics once owner by Vernon Miller.
Luckily Vernon Miller kept 3 copies of Better Comics #1 and after some healthy negotiations I was fortunate enough to acquire one of them. Here is a scan of my copy.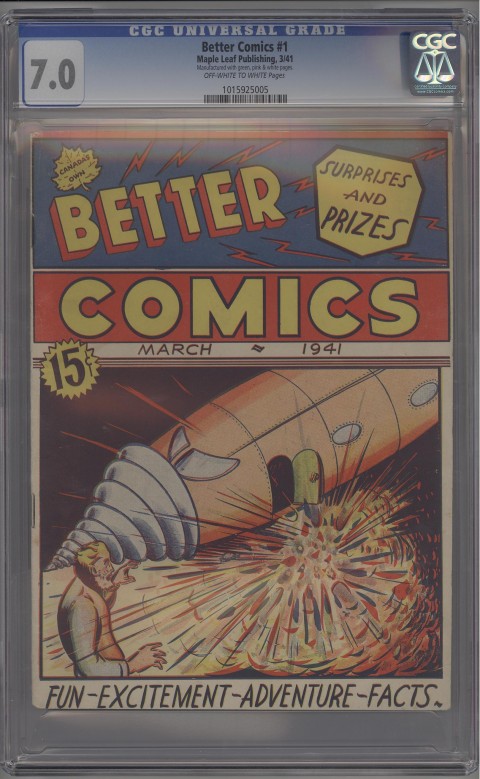 I asked Brent Miller if he would grant Comic Book Daily an interview and he kindly agreed.
CBD: Brent, when did you first realize your grandfather was a comic book creator? Was it something the family talked about?
Brent Miller: Actually we knew very little of this, it was quite the shock for the family.  We knew he was an artist for newspapers, but we had no idea that he created Canada's first superhero, and first comic book.  I think he kept his work life quite separate from his family life, and he died two months before I was born so we had no idea the impact he had made on comics.
CBD: So you had no idea of your grandfather's importance to Canadian comic books?
Brent Miller: No idea.  A few years ago I did find out that he and a business partner had created a comic book company, but I had no idea that he was the first one to do so, and was shocked to find out that he came out with the first Iron Man.
CBD: Could you share with us a few fact about Vernon Miller, very little is known of him.
Brent Miller: He was born February 1912 and lived half his childhood in Winnipeg.  He ended up going to Kitsilano High School in Vancouver.  He was married and had two children, Richard and Karen.  Later in life he was an artist for both the Vancouver Sun and the Province, doing cartoon type drawings.  He was also an illustrator for Canadian Boy magazine, which was done by the Boy Scouts.  I should also note that he never worked for Disney as some websites report; he met with Walt Disney but did not take a job with them.  Then of course he also created Maple Leaf Publishing with a partner and you know the rest.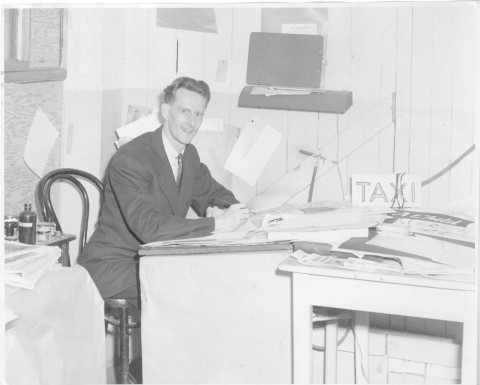 CBD: Did your grandfather keep in contact with the other artists that worked on these comics? Could you name some of them and the work they did?
Brent Miller: I asked my Dad about this one, and he said no.  Wish I could give you more.
CBD: These Canadian comics your grandfather worked on have all but been forgotten save a niche collecting community that exists, do you think these works should be better known by Canadian comic book fans and even Canadians in general?
Brent Miller: It's obvious that most Canadians don't know about them, heck my family had them and we didn't even know about them! I think they're an amazing piece of history, especially when you look through them and read all the stuff about the war.  The Iron Man character's main enemies were the Nazis, so when you read it, it's like rewinding the clock.  Hopefully more exposure will come and will honor some of the great writers/illustrators from that era.  I love the fact that my grandfather is getting attention thirty eight years after his death.
CBD: You recently came across some of your grandfathers old comics, can you tell us a little bit about that discovery?
Brent Miller: My grandmother died about four years ago, but a few years before that when she had to move out of her apartment she gave them to my Dad.  She had kept them locked up in a closet for over thirty years.  My Dad then stashed them away for a few years and told me about them.  I work as a cartoon voice actor/writer which is a very similar industry, so I got curious and started doing some research.  The best part was discovering that we owned three issues of Better Comics #1 – issue #1.
CBD: Have you read your grandfathers' comics, any thoughts on the works?
Brent Miller: Yes, and I loved them.  Mostly because it's work that my grandfather did.  Comics have really developed since then, but it's really great to look back and read a piece of history and to see it documented in comic book form.
CBD: Thanks for sharing this with us Brent.
Brent Miller: My pleasure.
Brent Miller is a Canadian voice actor/writer; he can be reached at www.brentmiller.ca.