What goes up must come down and what goes down… must come up! That was the story for comic values during the third quarter of 2012. The two hottest Ages so far this year, the Silver and Modern Ages, declined during the quarter. The down-and-out Bronze Age popped 10.3% after falling 2% in Q1 and 11% during Q2. The Marvel Composite Index, which combines the Silver, Bronze, and Modern Age indexes, fell 5.2%. The table below summarizes each index's performance during the quarter and for the year:

Here's a comparison of the Silver Age, Bronze Age, and Modern Age performance year-to-date. All indices have been set to a starting value of $100 for a direct comparison.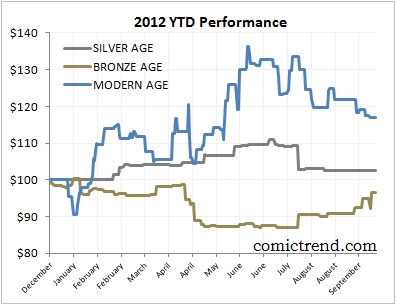 Avengers #1 drove most of the Silver Age's decline during the quarter. We saw values rise before the movie's release and now we're seeing the expected reversion back to pre-movie values. If you believe values are going to rise long-term then the recent weak performance is an opportunity.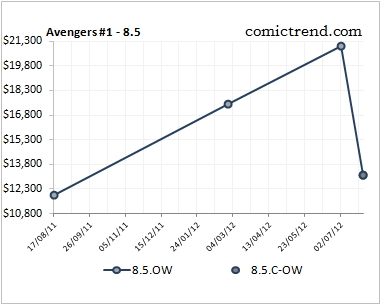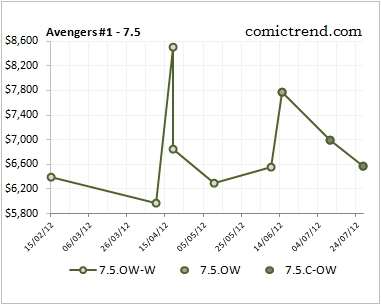 Incredible Hulk #181, which fell off a cliff after 2008, showed some signs of life during the quarter. The title came close to breaking the $8,000 level but bounced and finished the quarter at $12,500.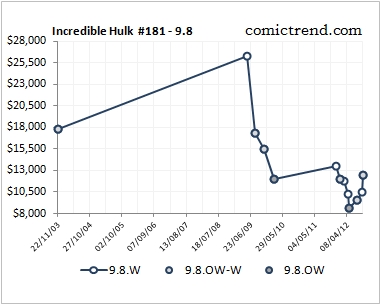 The Bronze Age 9.8 Index would have performed even better if it wasn't for an Amazing Spider-Man #129 auction that settled at $4,000 near the end of September. In March a copy sold for close to $5,000 after values dropped below $4,000 in January. Will this title follow Incredible Hulk #181 and start to bottom here?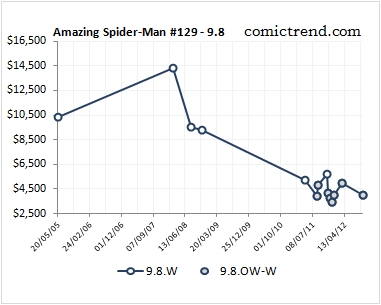 Until next time!