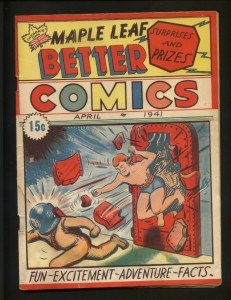 A small meeting took place on Grey Cup Sunday 2012. This meeting was held in an poorly lit supply room at Toronto's Royal York Hotel during a 1 day comic book convention. The participants of this meeting were Jim Finlay, Ivan Kocmarek, Stephen Lipson and myself. We gathered to discuss a very important and ambitious undertaking.
This little meeting officially launched what we are calling the "Canadian Whites Project" or the "WECA Project" (we actually have not come up with a name yet).
Canadian Whites have come to mean books produced and published in Canada as a result of the Canadian government's implementation of the War Exchange Conservation Act (WECA) which banned the import of American comics into the Canadian wartime economy of World War II. WECA was implemented by the Canadian government in December of 1940. The act was repealed in 1946 allowing US imports to resume, the Canadian industry died out shortly thereafter.
We set out an agenda for our project. Our 1st goal is to index and catalog all the Canadian Whites that were published and populate a database with the information. Through a website still to be named (something like canadianwhites.com might do) this database will be available to all.
Of the 600 or so Canadian Whites that were published the group has access (through archives and personal collections) to about 90% of these.
Our immediate goal is to get what is available cataloged and up on a site by spring 2013. Another immediate goal is to raise awareness, to let people know what we are doing and hopefully source all the missing pieces we need to complete the project. The group's second meeting is this March; we hope to be making the finishing touches on the website launch at that time.
Our group didn't just form to index and catalog. The information available on our website will help to bring to light a Canadian Comic Book history we all share but very few Canadians know about.
A generation ago this project may have been relegated to the eccentric desires of a small clique of hobbyists. Looking around today we see millions of Canadians partaking and enjoying comic book culture through games, toys, TV shows, books, movies and of course comic books.
I find it interesting that in Canada a character like Superman is celebrated because Canadian Joe Shuster co-created him (Canada Post issued a Superman stamp in 1995), Wolverine is celebrated as a Canadian hero and Captain Canuck is having a resurgence of awareness (he also got a stamp back in 1995) . Canadians are looking for a Canadian connection to their beloved heroes and grasping on with patriotic vigor when they find one.
Our group has great news for Canadians; we had an awesome home grown comic industry over 70 years ago!
The period produced some stunning comics. Over future posts I'll highlight some great comics and characters that came from this era.
This is truly an exciting project, one that will attract interest from all over Canada and should be embraced by comic book fans worldwide.
For me the most exciting parts that lie ahead are the discoveries. There are 600ish comics with perhaps more than 3000 separate stories. What amazing characters will we dig up? These characters have been lost to us for over half a century and as I've stated above most of us don't even know about them. This is like an archeological dig.
I briefly mentioned the team members above but now I'd like to take the time to introduce each one individually.
Jim Finlay is a self professed "patriotic prospector looking for Canadian Gold". Jim brings knowledge and passion to the project; he can be reached at [email protected].
Ivan Kocmarek was born in England but raised in Hamilton's iconic North End. Ivan has been collecting comics for 50 yrs though his passion for Canadian comics has seized him only recently. He is the driving force behind this project and I must say he runs a tight, well organized meeting. Mr. Kocmarek's goal is to "preserve this part of our heritage and let everybody know about these relatively neglected, rare, and little known books from our collective Canadian past". Ivan can be reached at [email protected].
Stephen Lipson has been in love with these comics longer than most. In his application to join the team Stephen wrote; "I enjoy collecting these lost treasures of Canadian heritage and pop culture. I have been successful in amassing what has been acknowledged as the largest collection of Canadian "Whites", comprising of over 450 books". Stephen can be reached at [email protected].
Walter Durajlija. I kind of feel like the Ringo of the group! I'm just happy to be in the band. I bring the same love for these old Canadian comics as the rest of the group and I share their view that this is an important Canadian Heritage project. Over the years I've met a lot of great people in the comic book industry, I'll be begging every one of them for help with this project. Reach me at [email protected].
I should also note that Kevin Boyd, owner of Toronto's Comic Book Lounge popped into the meeting to give us his support. Kevin Boyd is also on the Shuster Awards (the Canadian comic book awards organization named after Canadian Superman co-creator Joe Shuster) committee and he has offered to help in any way he can.
We of course will need your help. If you have any information, documentation, records, photos, statistics, circulation numbers, comic books etc that you feel may help this project please contact any or all of us.
Thanks