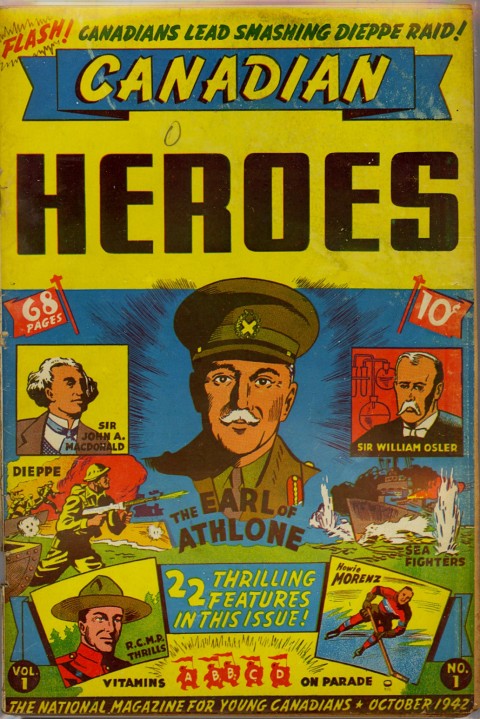 Educational Projects in Montreal seems generally to be regarded as a poor cousin to Maple Leaf Publications in Vancouver and Bell Features in Toronto and even to Anglo-American Publications (also based in Toronto) which themselves perpetually seems to sit third behind those top two when it comes to collectiblility. This probably stems from the "dry" mandate that the Quebec company had to present historic and educational content for its readers.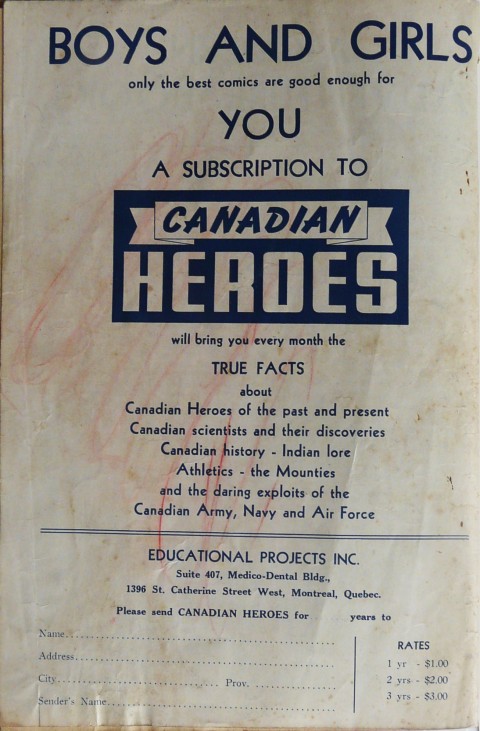 The other companies had the full fictional, "adventureland," spectrum of superheroes, cowboys, explorers, spacemen, and pirates, Educational Projects comics wouldn't have been out of place in the classrooms of the day.
I've already discussed the work of Sid Barron, one of Educational Projects main artists, elsewhere and in this post I'd like to look at another, Joseph Hillenbrand, even though there is little information available about him apart from the comic book work he left behind.
Joseph Francis Hillenbrand was born in Hoboken, New Jersey in 1910 (about five years ahead of that other really famous Francis from the same city) to Joseph Francis senior, a manager of a printing office, and his wife Edna who were both from New York City. It seems that in the 1920s, Joseph senior established a branch office of 'Autographic Register Systems Limited' in St. Henri, a suburb of Montreal  and, in October of 1925 Joseph Jr. (now 15) and his mother moved from Jersey City (where the family lived at the time) and settled in the Westmount area with Joseph Sr.
Following his aptitude and interest in art, Joseph Jr. attended l'École des Beaux Arts de Montréal which had just been founded a couple of years before his arrival in the city. The late Kate McGarrigle (mother of Martha and Rufus Wainwright) was a graduate of "EBAM" as well. Here's Hillenbrand at the bottom centre of the graduation announcement as it appeared in La Presse on Feb. 7, 1936.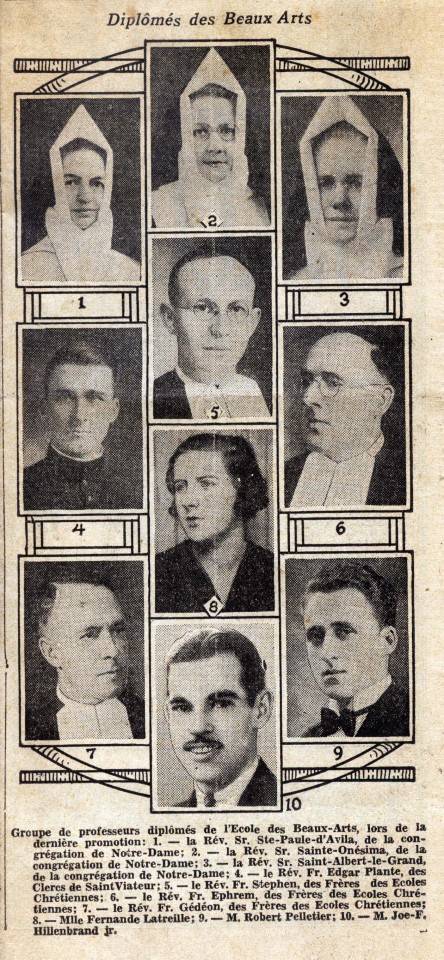 A half-a-dozen years later he was working for the newly founded Educational Projects Inc. which started publishing its war time comic Canadian Heroes in the fall of 1942. This publisher also put out a single issue of a title called Famous Heroes for the holiday season of that same year and a series of colouring books.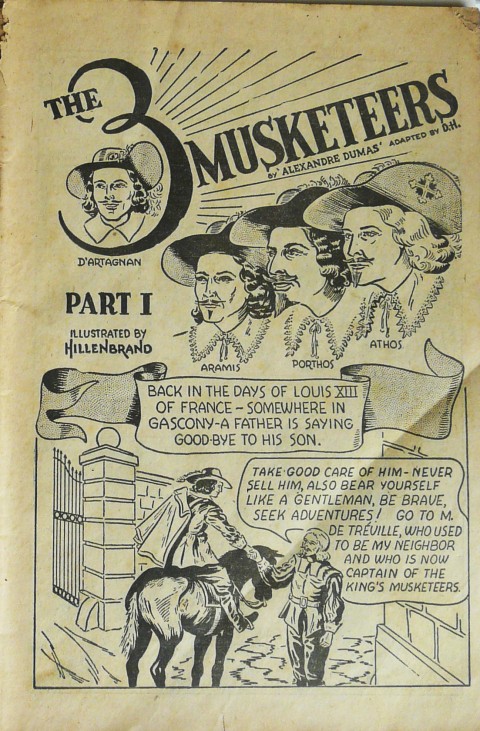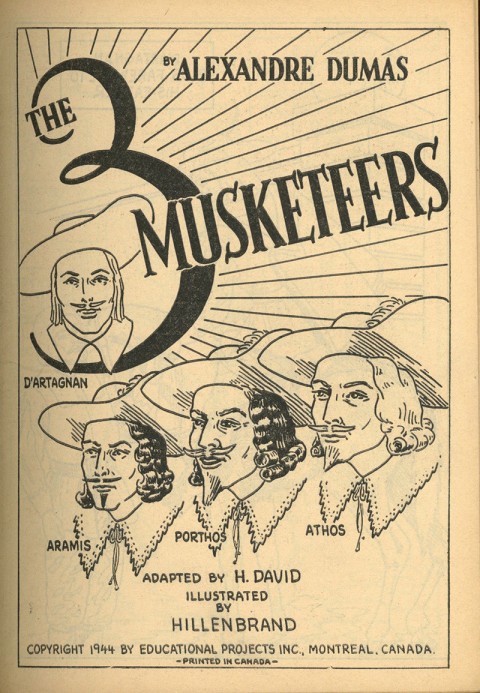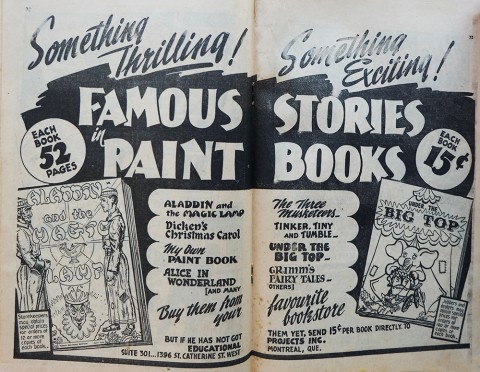 Strangely enough Educational Projects also appeared to be involved in the distribution of American Classics Comics in Canada and included copies of them as bonuses in their subscription offers.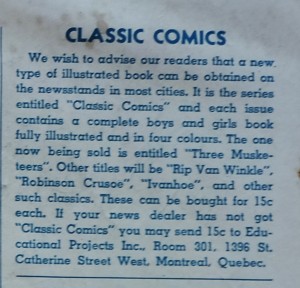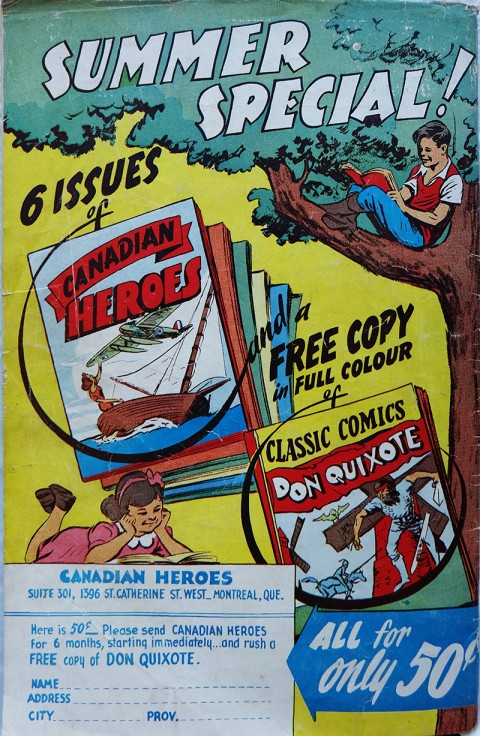 Though almost all American comics were banned during the WECA period, those deemed to have educational value (such as Classics Comics and True Comics) seemed to have been let in. Canadian Heroes and the single issue of Famous Heroes, emulated this concern for educational value in comics.
Hillenbrand worked on illustrating encapsulated biographies of famous Canadians or Canada related personages.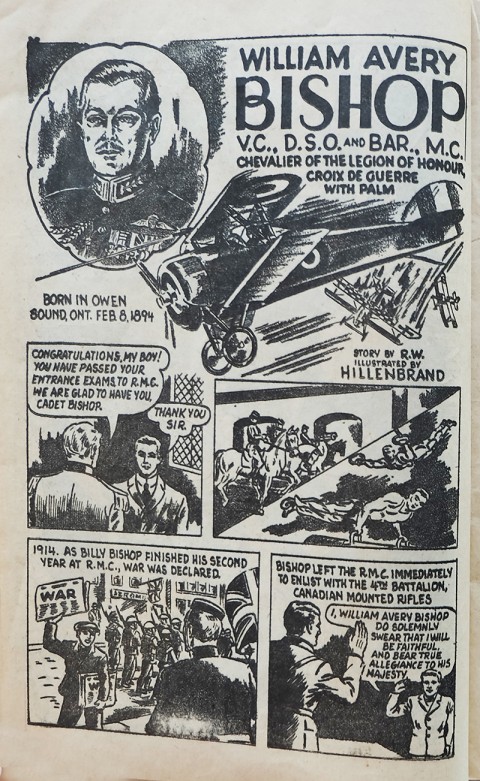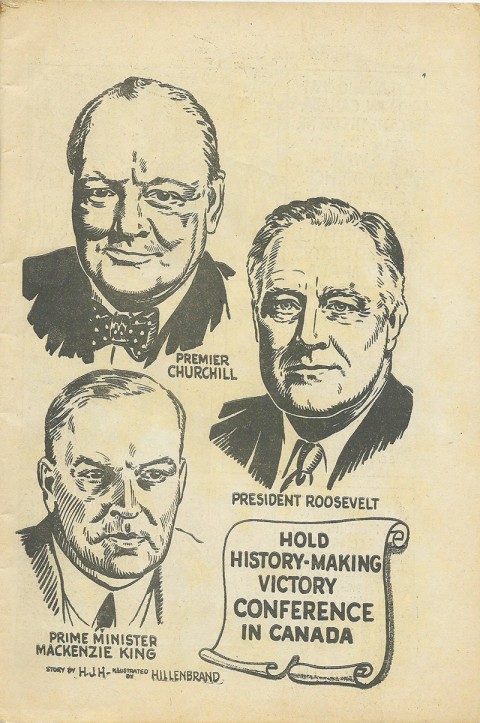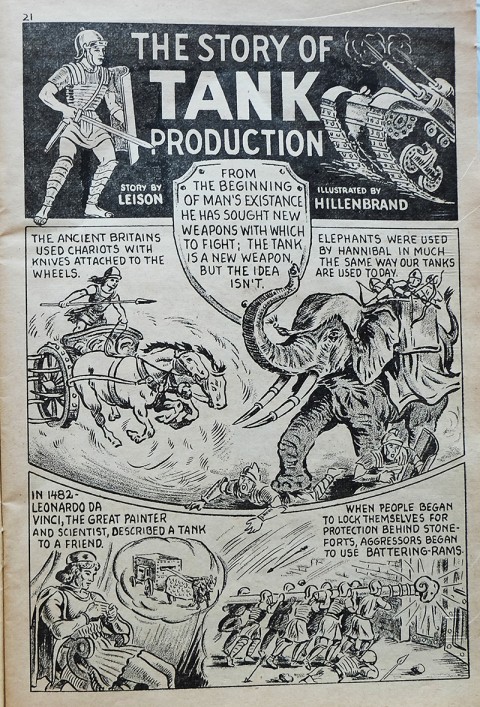 He also illustrated and installment "History of Canada" series which was probably written by Harry Halperin who was the chief editor for Educational Projects and who wrote a good number of the features for Canadian Heroes and who appears to have often signed these features as "The Author." The "History of Canada" series was originally drawn by an artist signing as Pietropaolo and was eventually taken over by and identified with Hillenbrand.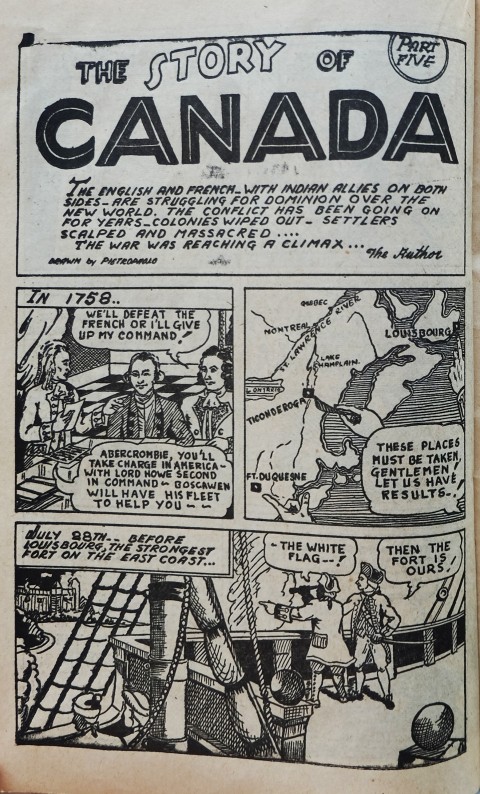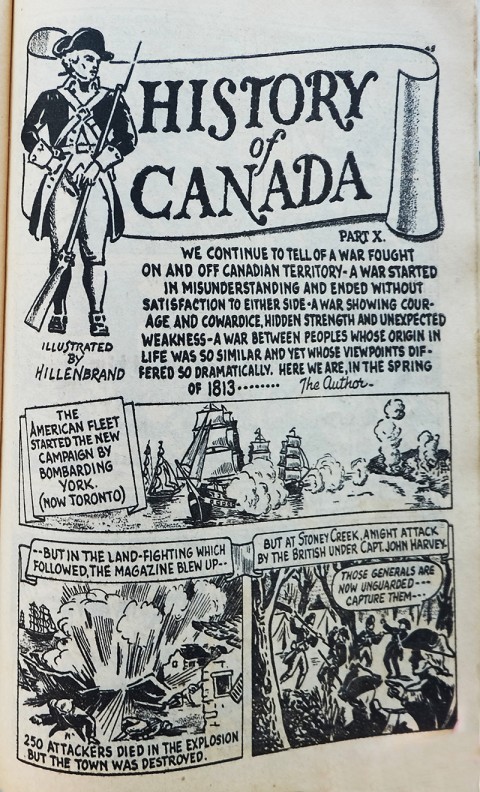 Early in 1944 Hillenbrand started a feature called "World of Tomorrow." He both wrote and drew this futuristic look at the things that might exist decades from the time of the Second World War. This included flying cars, foods of the future, mobile phones, and even a colour television, imagine that, for example. Sometimes ideas were sent in by the readers and Hillenbrand drew them up.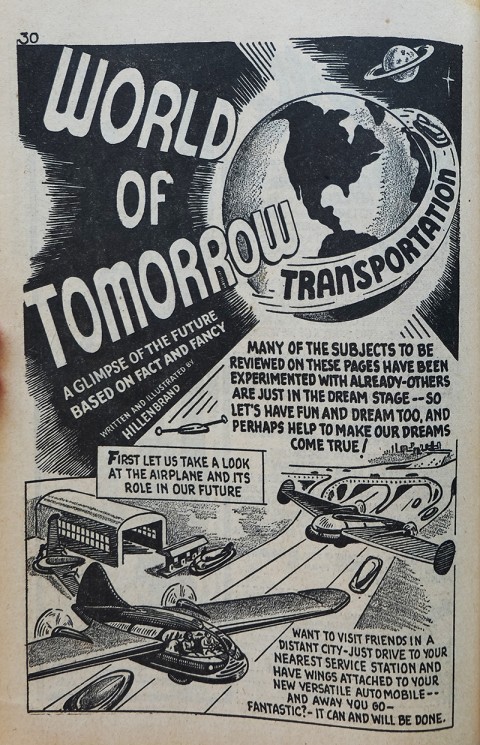 The first couple of installments were just a straight presentation of concepts and ideas but in Canadian Heroes Vol. 3 No. 3, Hillenbrand introduced a futuristically fitted female figure he called "Tomi" to act as moderator and guide through his presentation of inventions to come.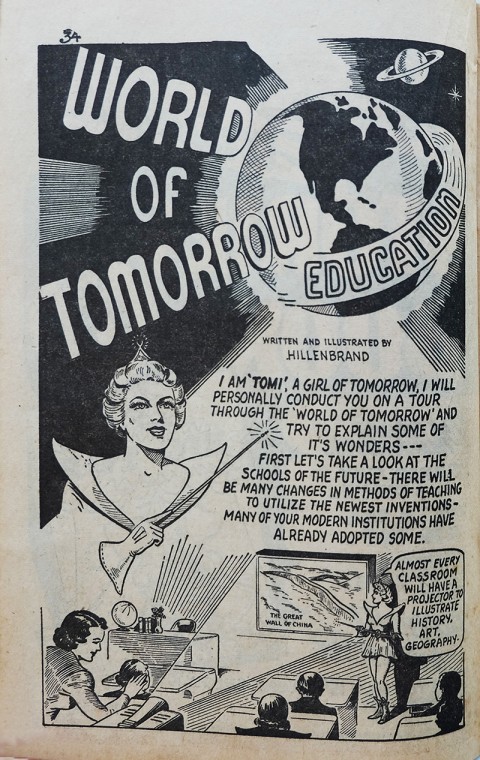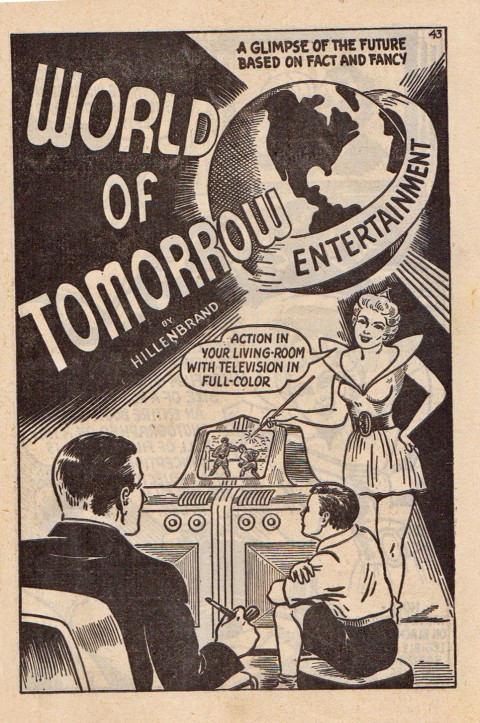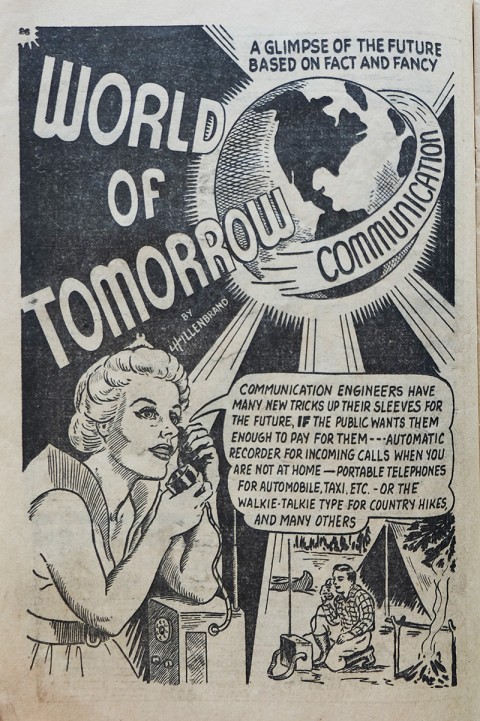 This "World of Tomorrow" feature, along with the fictional hero concession called "Canada Jack" by George M. Rae, was a calculated move away from the staid historical and biographical mandate of the publisher, probably in a hope to win over some of the readership that was reveling in the fictional heroics presented in the books of the three other main Canadian comic book publishers at the time. It's still interesting to see what the war decade thought would happen in the future.
Early in the Fall of 1945, the last issue of Canadian Heroes, Vol. 5, No. 6, the 30th issue of the title (published bi-monthly with six issues in each Volume) cover dated October, 1945 was on the stands. Educational Projects was the last of the big four WECA publishers to appear and the first to bow out.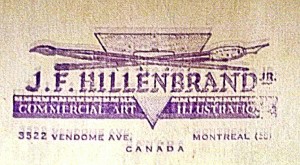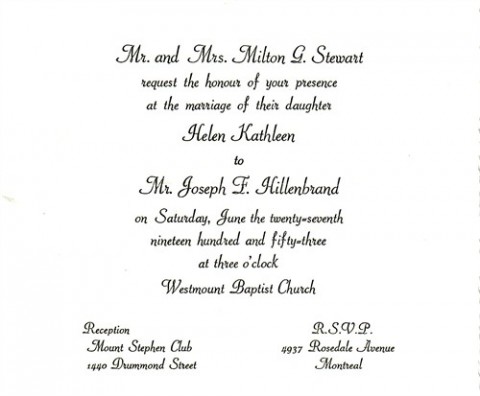 Joseph Hillenbrand seemed to continue to do commercial art and began to do portrait painting after this. He married Helen Stewart in Montreal in 1953 and had two sons: Ross in 1955 and Eric in 1959. Joseph Hillenbrand died in May of 1966 at the relatively young age of 56 from a heart attack after a history of heart problems.

Thanks to Ross Hillenbrand for his assistance.