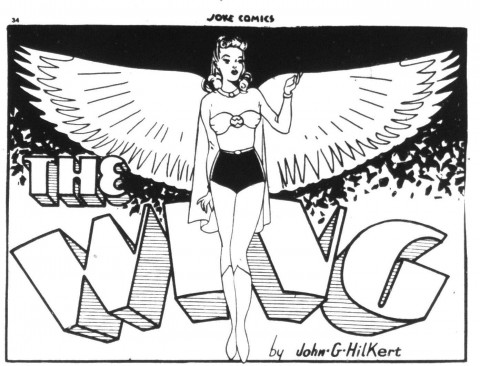 Nelvana maybe be THE hero of the Canadian Golden Age, but there is one other super heroine from this era who may soon be in ascendance.
The Wing was the creation of John G. Hilkert and first appeared in Joke Comics No. 4 (Sept./Oct. 1942) as the Wing, but if we look closely we can find an appearance of a character (not costumed or super powerful) named Trixie Rogers in a text story written by Hilkert and art by Murray Karn in Dime Comics 5 called "Death Casts a Vote" a couple of months before she put on the costume in Joke Comics.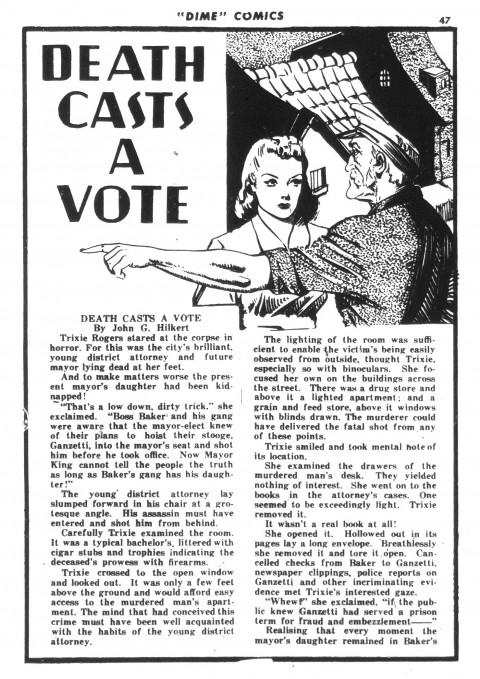 In the first text box of the first panel after the splash in Joke Comics 4 we find out that Trixie is a writer who creates stories about a "mythical" superhero called "The Wing" with the privilege of dramatic irony we also find out that she is, unbeknownst to anyone else, in reality that character and that she bases her stories on her own real adventures.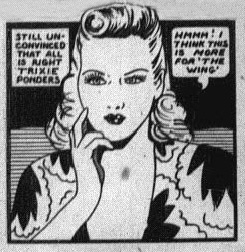 We also find out The Wing's cape is magical and that it can overcome the force of gravity allowing her to fly. The Wing's costume also features a stylized "W" bookended by two of her feminine assets. Her next appearance was in Joke Comics 6 (Jan./Feb. 1943) and this story shows her taking part completely in the home front war effort by working in an aeroplane factory and foiling a sabotage plot.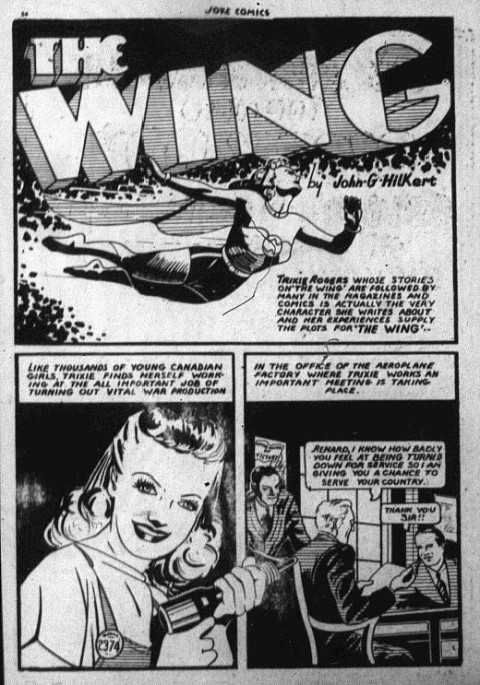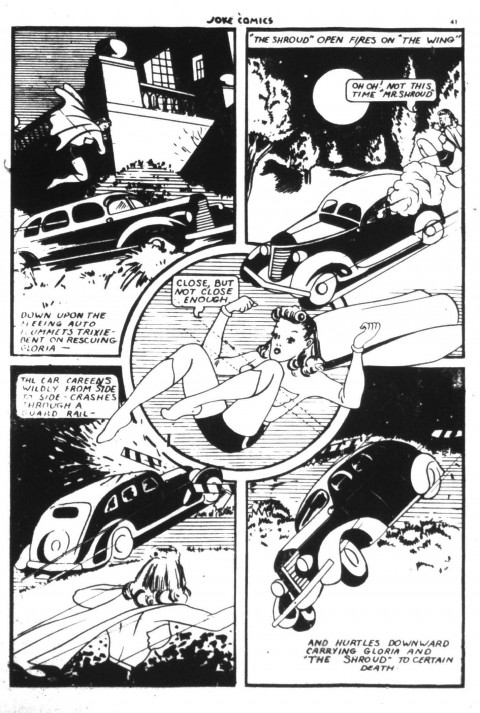 Hilkert gave Trixie little more than the power of flight while wearing her cape: superb agility, and the ability to deliver a strong punch. After these two stories, Hilkert left comics and enlisted in the U.S. army in Ohio in June of 1943. Besides this comic work, Hilkert did a number of pulp covers and drawings such as the famous Eerie Tales No. 1 which appeared just before Dingle's Triumph-Adventure Comics No. 1. After the war he established himself as a pulp cover artist in his native U. S. and seems to have started using the name John K. Hilkert instead of the John G. Hilkert with which he signed his Wing stories.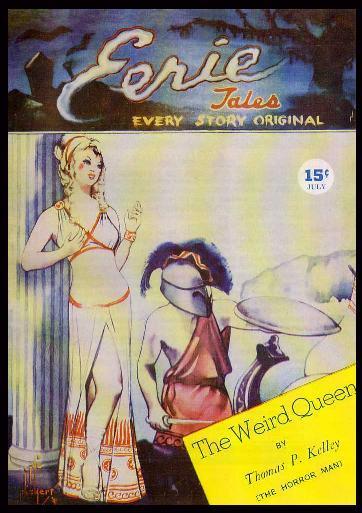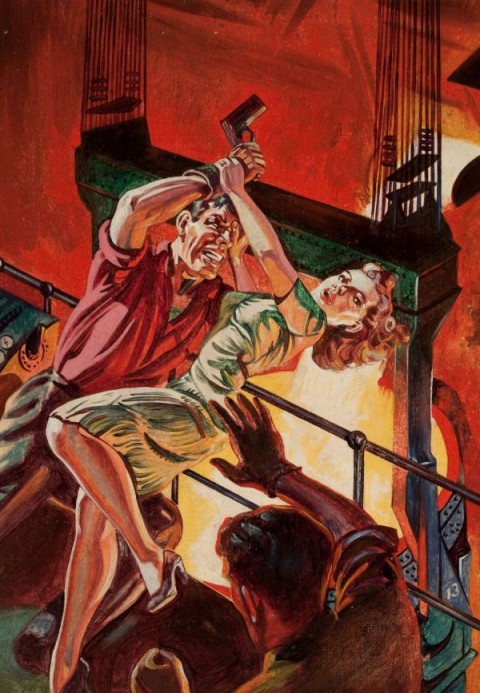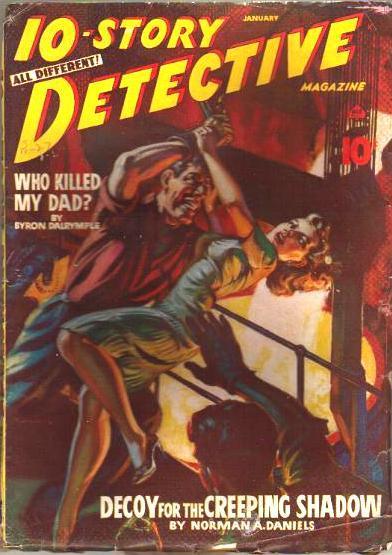 But he didn't forget his comic work and when Hirsch, Loubert, and Alan Walker put out their Great Canadian Comic Books in 1971, Hilkert wrote the publisher, Peter Martin, and apparently wanted to share his knowledge of the period with the editor.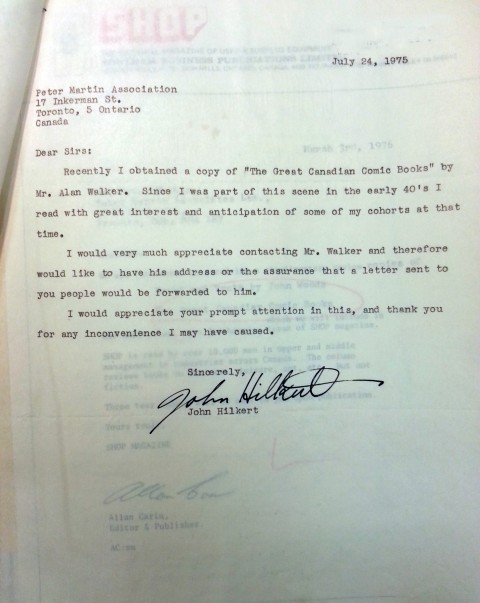 About a year after Hilkert had enlisted, The Wing was revived in Joke Comics 14 (June/July 1944) by 16 year old Jerry Lazare. Lazare did this type of "pinch hitting" again when Murray Karn left Bell to enlist and Jerry took over his Jeff Waring strip in Wow Comics 17 and when Rene Kulbach enlisted and Jerry took over Kulbach's Phantom Rider in Wow Comics 21. These were some heady assignments handed out by Adrian Dingle to a kid who wasn't 18 yet.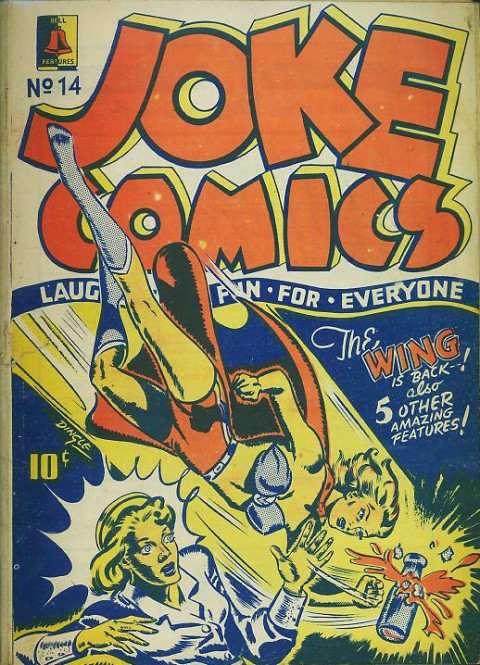 Jerry Lazare slightly changes Trixie's profession from writer to cartoonist and she doesn't even need to use her power of flight to foil a group of hospital blood saboteurs. In fact, Lazare doesn't employ her power of flight until his fourth story with her in Joke Comics 18.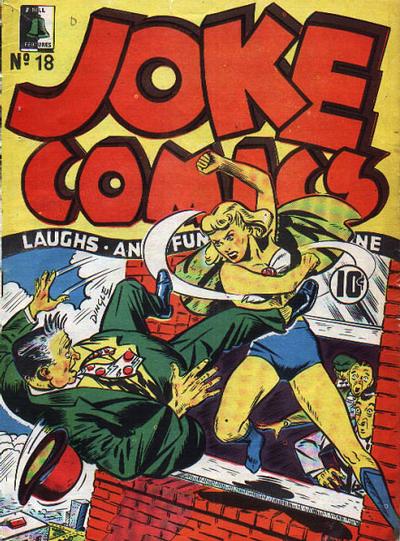 It's a well-known fact now that the "Wing Meets Nitro" episode is a direct cloning of the Phantom Lady story in Police Comics 20. The counterpart of Nitro in the Phantom Lady story is The Raven. However, we have to remember that in the Golden Age, both north and south of the border, often swiped to their heart's content.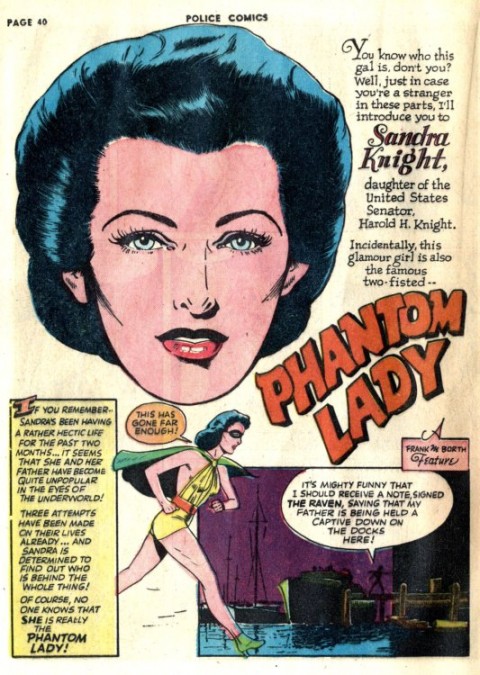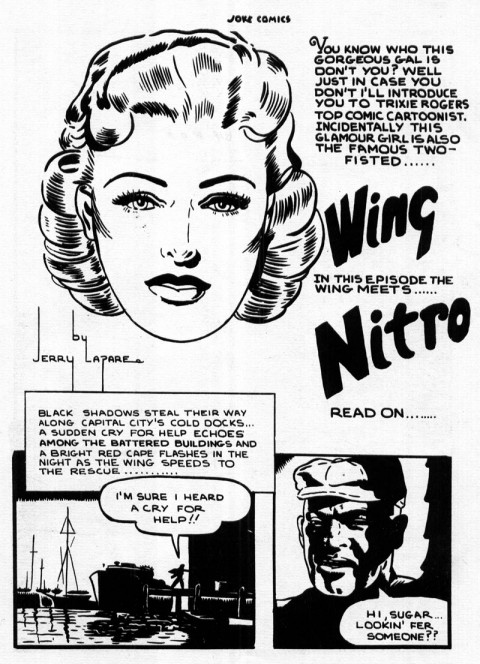 The Wing had 3 Joke Comics covers Nos. 14, 18, and 23 all done by Adrian Dingle and these are usually more sought after than the other Joke Comics covers of the run. Dingle gave the Wing's costume its first colour co-ordination on the cover of her revival book, Joke Comics 14 and this consisted of a red cape and square-cut shorts with greyish blue strapless bra and boots. With the cover of Joke Comics 18 the cape became green, the bra white, and the boots and shorts a solid, darker blue. By the last Wing cover, Joke Comics 23, the cape was back to red but the boots and shorts were green for the first time and the bra red. Either Trixie had a closet full of fashion accessories or, as Art Director for Bell, Dingle didn't give much weight to this aspect of continuity (looking at some of Dingle's other Bell covers, I tend to opt for the latter).
The Wing didn't have the epic story line that Nelvana leant to Triumph Comics, but her stories were nice little pops of detective work and small victories of right over wrong and she added a lot of pizzazz to those Joke Comics covers. Dingle knew what he was doing when he asked Jerry Lazare to revive her. I'd  like to imagine that conversation that took place between Dingle and 16 year old Jerry Lazare in Dingle's small office on York St. when he asked Jerry to take on Hilkert's year-old creation. Dingle must have liked the results because he repeated it with Jeff Waring when Murray Karn left for the war and with the Phantom Rider when Rene Kulbach did the same.
Lazare's wonderous Wing ran from issues 14 to 25 of Joke Comics, skipping No. 15, an eleven issue run add that to Hilkert's classic original two issues and you get an even baker's dozen Wing stories.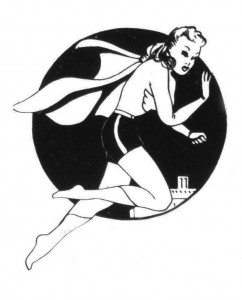 I also wanted to add a poll to the end of this post. We're already getting a Nelvana reprint. Who do you think should be the next Canadian Whites hero to get a reprint book?
[yop_poll id="2″]