Every week CBD's Editor in Chief Pete DeCourcy asks the question and the crew (and special guests) give their answers, we'll be doing this for 52 weeks. Tip of the hat goes to the gang at Scans_Daily for the inspiration.
This Week's Q: What is the greatest uncollected storyline in comics?
(i.e. Never been reprinted in graphic novel format.  Think along the lines of: 1963, Automatic Kafka, Helfer/Sienkiewicz/Baker's Shadow, etc…)
Anthony: Just to clarify. Is this something that has never been reprinted or something that may be been reprinted once upon a time but a collected edition is no longer available?
Peter: I'll accept both.
Kevin Boyd (Director of the illustrious Joe Shuster Awards Committee)
Going with the never been reprinted motif: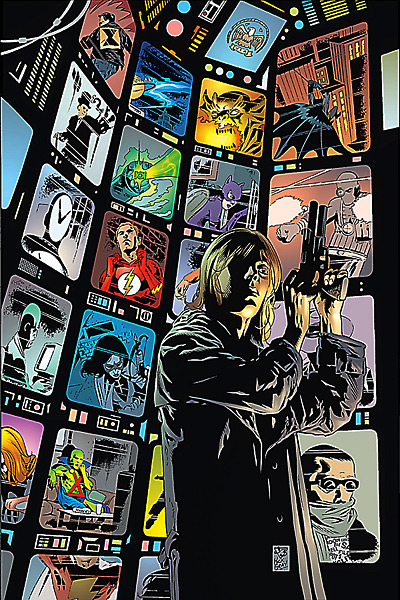 One series that comes to mind that has never been reprinted is Chase, written by Dan Curtis Johnson, with art by J.H. Williams III. 10 issues, plus a 1,000,000 special. I'd also include her first appearance in Batman #550. Think X-Files or Fringe with Super-Heroes and their world as the focus – it predates the similarly themed Powers by a couple of years. But speaking of Batman #550, why has DC never reprinted the Doug Moench and Kelley Jones run on that title? Along with John Beatty they produced 515-519, 521-525, 527-532, 535-552. There's some pretty great, iconic stuff in there.
Scott VanderPloeg (writer of CBD's Bound Together column; his ramblings can be found blogged at  eBabble. )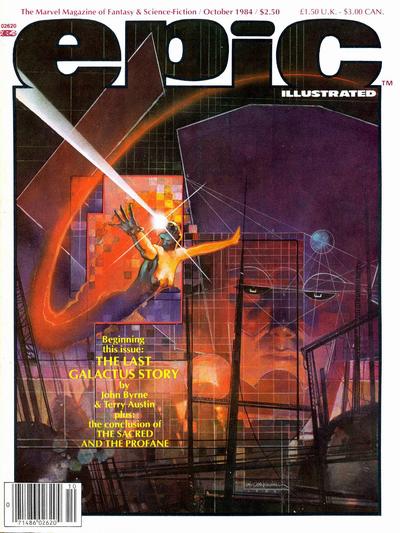 I'll limit my choices from Epic Illustrated to just one: The Last Galactus Story by John Byrne, running through Epic Illustrated issues 26-34. It was never completed as the magazine was canceled but was decades ahead of Marvel's "The End" stories, with Galactus and Nova searching for planets to devour at the end of time. Sienkiewicz's cover to the first part still blows me away.
Chris Howard (From Egesta Comics, one of the masterminds behind the fan favourite webcomic series Dressed For Success)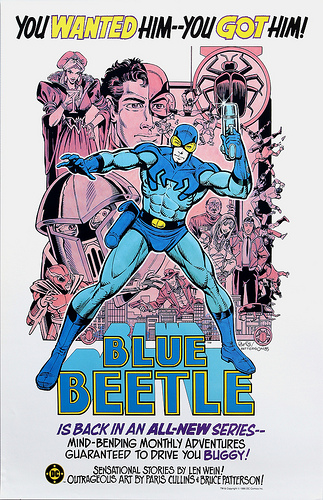 I'm surprised the Len Wein/Paris Cullens' Ted Kord Blue Beetle series hasn't been collected considering his significance in recent years. I've got them all buried in a long box somewhere and would love to re-read them in collected form.
Anthony Falcone (Writer of Whosoever Holds This Hammer)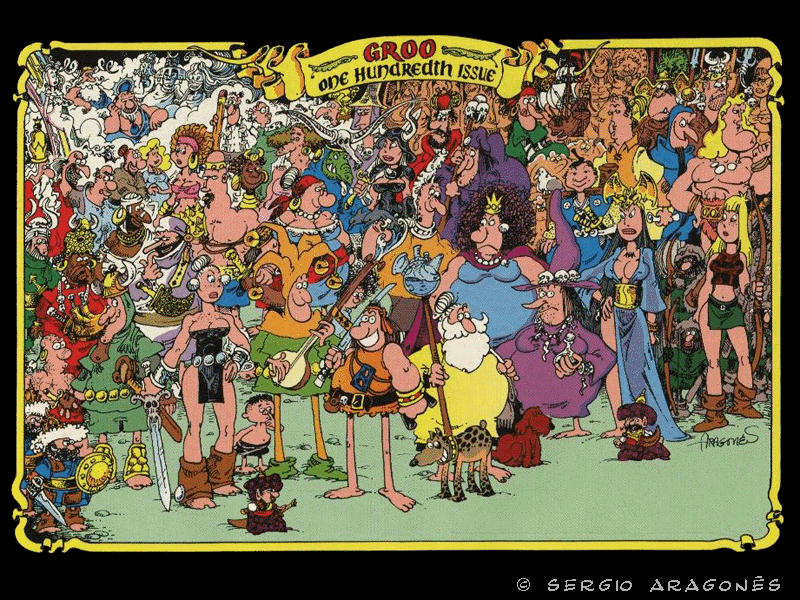 I would have to say that I would love a comprehensive, possibly hardcover omnibus-type edition of Sergio Aragones Groo the Wanderer (Epic/Marvel). The classic story of of a barbarian who is the world's greatest swordsman (and also quite slow of mind). The humour, pacing, and attention to detail are some of the best in comics.
I know that you could once upon a time get some trade paperbacks, but most have gone out of print and the only easily obtainable ones are the more recent Dark Horse mini-series.
Dark Horse should work with Aragones and Evanier to create new, spiffy hardcover versions.
Ed Campbell (Blogger – Trust Me I Know What I'm Doing)
This has been a tough question for me.  I have been thinking of what have been my favorite /greatest storylines in comics.  I have come up with a list.  All of them have been reprinted into collected editions.
My favorite comic storyline was Green Lantern's Emerald Twilight (it's been collected).  Some of my other favorites have been Infinity Gauntlet (it's been collected), Superman's For Tomorrow (collected too), Green Lantern Rebirth (collected several times), Marvel's Inferno (collected as well) and The Further Adventures of Indiana Jones (it's been collected in three omnibus').
Then I got thinking of my other favorite stories, but they have been the collected editions that I have read.  Those have been Danger Girl, The Losers, The Rocketeer and Fallen Son (The Death of Captain America).  Even older stories like Batman's Knightfall or Knightquest have been collected as well.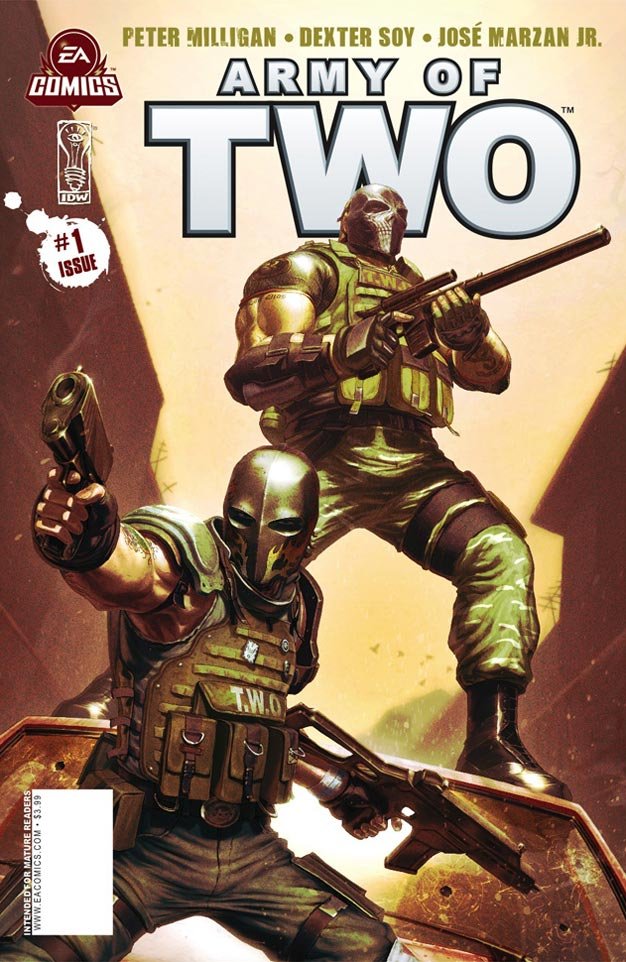 But I finally thought of a comic series that I have read that hasn't come out in a collected edition (that I know of yet) and that has been EA Comics 6 issue arc for Army of Two.  Army of Two is one of my favorite video games.  Elliot Salem and Tyson Rios are really interesting characters.  The comic series follows Rios and Salem on a mission in Mexico where they are wanted by everybody (gangs, police and government).  There is tension between Salem, Rios and Alice that will tear the team apart.  The comic serves as a good sequel to the video game.  This is a series I would like to see in graphic novel format.
Chris Owen (Professor of Comic Books History at Hamilton's Mohawk College and host of The Comic Culture Radio Show.)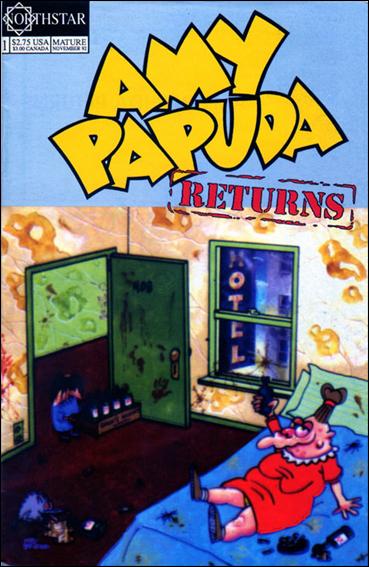 After re-reading the question, I'm not so sure I have an answer to the GREATEST storyline never collected. One of my all time favourite comics that has never, and nor will ever be collected is Amy Papuda by Michael Pearlstein. It is a black and white comic published by Northstar (who got their fame collecting the often overly sexual and violent comic Faust by Tim Vigil and David Quinn).
Amy Papuda is the star of her own comic whose intentions are great, but sadly ends up in horrible situations including lewd picture scandals and even murder (which starts off issue two with "Hard Times Papuda"). The story is fun and kind of extreme the way Johnny Ryan's Angry Youth could be called extreme. And Pearlstein's attention to detail in his art helps to round out this comic as one of the funniest I have ever read. It's a train wreck of hilarity. Sadly only two issues were published with a third being titled "Amy Papuda Returns". And although this is one of my favorites, I am sure these short paragraphs are probably more than anyone has written about the comic for over a decade.
Greg Hyland (Writer/illustrator of the cult classic Lethargic Lad as well as Lego Star Wars)
I don't know, but when I walk in to the comic store I often think "Holy crap! They reprinted THAT CRAP!?!" I find it annoying that comic stories are made to be repackaged into trade paperbacks later on (I know that's where the money is). Older Marvel comics were cool because you never knew how long Spider-Man would fight Doc Ock or how long the X-Men would be int he Savage Land…. now the stories pretty much all say "Part 2 of 6" or whatever.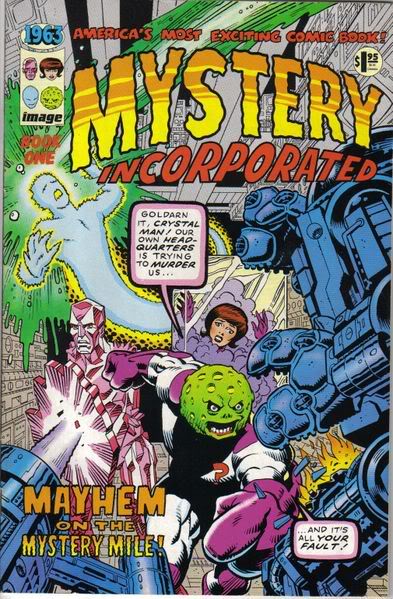 Anywayze, Peter pretty much included my answer, which would be 1963. But if you followed Steve Bissette's blog recently, you know that thanks to Mr. Alan Moore, that 1963 will NEVER come out (or at least not in Moore's lifetime). In a way, that's okay, because 1963 is also cool as the "object" that IS a comic book. A collected trade paperback would take away from that.