The Super Comic Convention will be taking over the Excel Centre in London's Docklands this weekend with a good looking panel schedule and an interesting prize for the 'hardcores' in costume – meaning… a likely showing of well-dressed nerds in full comic rags.  With 2 tickets to the UK premiere of an upcoming Marvel feature film (to be advised by Disney upon winner selection) on offer – the comedy clobber and costumes at the con could be increased to quintessentially quirky heights.  Londoner's will also be welcoming Stan Lee to town for the first time in nearly 40 years, which is a big deal and will certainly help us to celebrate the occasion.
The panel schedule is a pretty good mix of creator advice – (including Stan himself) and publisher insight into a turbulent and impressive last year in the industry…
2 that caught my eye outside of Stan's Q and A…
13.00 – 13.45 THE DC 52: 6 MONTHS ON – "It has been 6 months since the launch of the new DC 52. Our panellists will discuss their work on the DC 52, in particular the initial concepts behind their work, their reaction to public perception on the new books and how they see the DC 52 evolving. This is a great opportunity for attendees to interact with creators involved in such a substantial change to the DC Universe." – perfect, some uncomfortable questions may pop up over recent cancelations of some titles – and similarly there may be new information on the replacements – Batman Inc. being at the forefront.
14.00 – 14.45 BATTLE OF THE ARTISTS – "Three Marvel artists will sketch characters pitched from the audience. Compare the styles of each artist and vote for your favourite sketch." – the live sketch panel, always worth a look if, (like me) you're an aspiring artist – the majority of the panels appear to be aimed at aspiring creators (as ever), with a few presentations on past and future plans from DC, 2000AD and IDW.
Please check out the panel line-up here (below) and if there's anything you'd like me to ask, please post it below and I'll do my best to get a question in.
http://www.londonsupercomicconvention.com/panels/
A long overdue gathering of 'cool' this weekend across the pond then – and a full report to follow.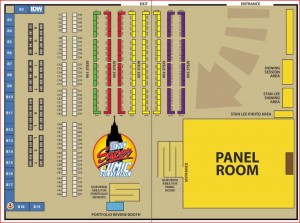 Also coming soon from across the pond, a progress report on my submission to Dark Horse…