This week, Across The Pond is coming to you from a different continent, a different place in the world – where the landscape is as rugged as the farm hands whom work it – and the heart of the earth itself, floods the veins of all whom walk upon it.  I'm in Africa, or (more specifically) South Africa – on a small farm in a rural seaside town on the south coast.
With a distinct lack of comics in the African countryside, the obvious question is… why are there not more heroes from this part of the world?
We're starting to see a more positive step towards total diversity with the arrival of Miles Morales in Bendis' Spiderman – probably the most important move in recent comics history (in terms of diversity) and one that shouldn't be overlooked in this little article.  However, right now I'm more interested in the arrival of Batwing – an African character, based in Africa, fighting for the good of Africa in his own ongoing series.
Issue #4 hitting the stands on December 7th.
Batwing was a Batman Incorporated  team member and it's quite a bold move from DC to give him his own series as he's only appeared on a few pages.  There's so much we don't know about Batwing but, what do we know?
David Zavimbe is an African Police Officer in one of the most dangerous cities in  the Democratic Republic of Congo, and Batman himself has asked him to help bring justice to the gang filled, war-torn, urban streets as only a Superhero could.   Quite different to Gotham, the city of Tinasha (where Zavimbe is based) is a broken and beaten place – where the children are kidnapped and given automatic weapons to fight against rival gangs… the men refer to themselves as 'Warlords' and crooked cops take bribes to turn a blind eye to the abundance of illegal activity and desperate behavior.   The criminals of Tinasha have seen and lived in some horrific conditions and have grown a thick skin and a fearless will – A solo Superhero has his work cut out – and has a long and bloody fight ahead.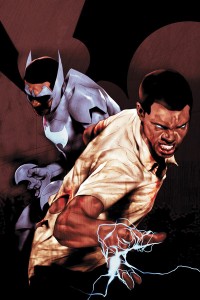 With a title so fresh as this – and experiencing Africa first hand, I'm hopeful for a steady success on this book and others like it.  The art in the book is beautifully colored and composed and I can't help but want more.
It also got me thinking/wishing for a new hero based in London…. *Modern* London without cobblestones and bowler hats.  Wishful thinking maybe?
More like this please… and let's take it to the people whom don't yet know they love comics in all corners of the world.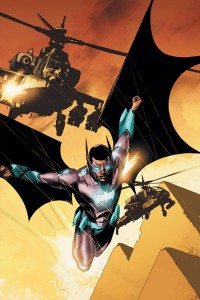 Coming Soon from Across The Pond – Comics in Cape-Town.