It's time for another update from BIFF SOCKO, TWO-FISTED NEWSHOUND. Biff Socko covers Comic Book News like zits on the A-V Club. Faster than Perry White! Stronger than J. Jonah Jameson! Hotter than Cat Grant! He is…BIFF SOCKO!
DATELINE: MILKY WAY GALAXY- The surprise casting of former  WALKING DEAD star MICHAEL ROOKER  as "Yondu" in  the upcoming GUARDIANS OF THE GALAXY motion picture, has the Biz all abuzz. ROOKER, most recently known for playing Merle on the hit AMC series "was a natural choice for Yobbo, or Yogi, or whatever the hell his name is," says one of the movie's producers, Swifty Cremeans.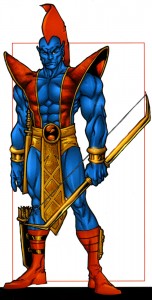 "The blue guy! You know? With that crazy red fin down his head and back. The kids today, they love that nutty space invaders stuff." Cremeans went on to add, that Rooker's character on Walking Dead was a redneck so he should have no trouble with "the fin". He also added: "My grand kids say he's pretty good with the bow and arrow, too. I don't watch the show. A little too heavy on the gore for me. But Yogurt, or whatever, shoots a bow and arrow, the writer –what's his name– said." When I informed Cremeans that YONDU had incredible arrows that he controls with the tweets of a whistle, he said: "Terrific!! The kids love the Tweetering!"
DATELINE: HOLLYWOOD –  Meanwhile, this reporter has learned another choice piece of Hollywood scoopage. Despite 98% NEGATIVE reviews, a -136 rating on ROTTEN TOMATOES, and a total financial loss of three-quarters of a BILLION dollars, a sequel is being planned for JOHN CARTER. The sequel will be based on an adaption of a variation on an adaptation of a version of Dynamite Comics licensed series WARLORD OF MARS: DEJAH THORIS.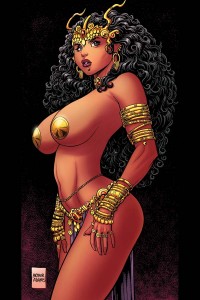 The movie will actually be of the "risque nude art retailer incentive" version of the comic. As a result, so far the only casting has been of the Olsen Twins as Dejah's nipples. Rumor has it, Ashley covets the role of Lefty, while Mary-Kate is actively campaigning to play Righty.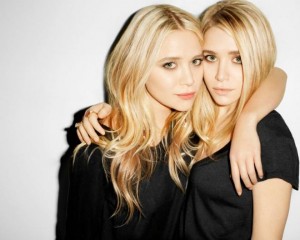 DATELINE: BOSTON- Despite the terrible tragedy at the Boston Marathon, organizers of the BOSTON COMIC CON say they are continuing on with plans for the convention this coming Saturday and Sunday….
Way to go guys. It's good to see. Your city has always been the heart of American courage and freedom. Don't let the bastards take that away from you…or us.

STAY INFORMED, DISCERNING READERS! STAY ALERT, INVOLVED CITIZENS! STAY STRONG, BEANTOWN! FOLLOW BIFF SOCKO ON TWITTER @bsocko