It's time for another update from BIFF SOCKO, TWO-FISTED NEWSHOUND. Biff Socko covers Comic Book News like zits on the A-V Club. Faster than Perry White! Stronger than J. Jonah Jameson! Hotter than Cat Grant. He is…BIFF SOCKO!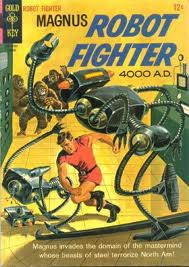 DATELINE:  MT. LAUREL– DYNAMITE ENTERTAINMENT has announced they will publish new versions of the GOLD KEY heroes TUROK, MAGNUS, TUROK, and DOCTOR SPEKTOR. The Gold Key heroes are known as the MATT STAIRS of the Comic Book Industry. STAIRS is the most-traded player of Major League Baseball, having been on  12 different teams. MAGNUS, TUROK, SOLAR, and SPEKTOR were traded from GOLD KEY to VALIANT..then traded to DARK HORSE, and DARK HORSE traded them to DYNAMITE for VAMPIRELLA, THE SIX MILLION DOLLAR MAN, DEJAH THORIS' nipples, and a washed-up pulp hero to be named later.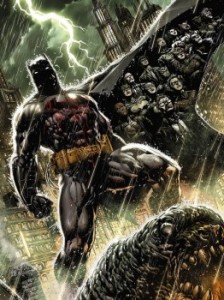 DEADLINE: DC UNIVERSE– DC has announced a new weekly BATMAN series to debut in Spring 2014. BATMAN ETERNAL will be headed up by SCOTT SNYDER and JASON FABOK, aided by a revolving team of writers and artists. SNYDER told USA TODAY that BATMAN ETERNAL will be a real game-changer. Of course, this is not to be confused with the game-changer that was DEATH OF THE FAMILY, or DEATH IN THE FAMILY or NIGHT OF THE OWLS,  or R.I.P., or BATTLE FOR THE COWL, or JUDGEMENT ON GOTHAM, or HUSH, or KNIGHTFALL, KNIGHTsS END, or KNIGHTSQUEST, or SON OF THE DEMON, or NO MAN'S LAND, or YEAR ONE, YEAR TWO, or YEAR ZERO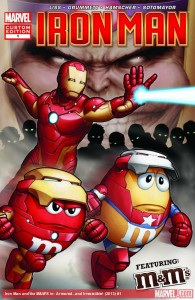 DATELINE: STARK INDUSTRIES–  Marvel is teaming up with M&M's for a teaming up of IRON MAN with the RED, YELLOW and BROWN M&M's. TOM GRUMMETT and DAVID LISS created the comic …not with straight faces, I would like to think. In IRON MAN & THE M&M'S® IN: ARMORED…AND IRRESISTIBLE!, Tony Stark turns to the candy-coated confections to fend off M.O.D.O.K. and his evil minions. Starks makes armor for Red, Yellow, and Brown and they…they….
HAHAHAHAHAHAHAHAHAHA!!!! I'M SORRY!! I TRIED! I REALLY TRIED! THIS SETS MARVEL CREDIBILITY BACK TO 1980 WHEN SPIDER-MAN USED TWINKIES TO DEFEAT PASTE-POT PETE!! NO..I'M SORRY…I CAN GET IT TOGETHER…Okay. I'm alright now. I can get through this.
The comic will work on a number of different levels. For instance,  the Red and Yellow M&M's are reminiscent of the colors of Iron Man's armor and the choice of Brown, reminiscent of HOW I SOILED MY SHORTS LAUGHING HYSTERICALLY WHEN I HEARD THIS STORY! HAHAHAHAHAHAHA!
Huh, whaddaya know? I COULDN'T get it together.
STAY INFORMED, DISCERNING READERS! STAY ALERT, INVOLVED CITIZENS! STAY CLASSY, HERSHEY, PENNSYLVANIA!! FOLLOW BIFF SOCKO ON TWITTER @bsocko