It's time for another update from BIFF SOCKO, TWO-FISTED NEWSHOUND. Biff Socko covers Comic Book News like zits on the A-V Club. Faster than Perry White! Stronger than J. Jonah Jameson! Hotter than Cat Grant. He is…BIFF SOCKO!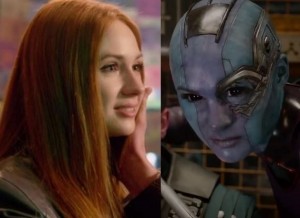 DATELINE: The Galaxy- Marvel has released new GUARDIANS OF THE GALAXY pictures featuring Doctor Who actress Karen Gillan as the murderous villain NEBULA.  Gillan gained worldwide fame as the plucky, adorable AMY POND. She will now gain worldwide infamy as the blue-tinted homicidal GIRL WHO HATED.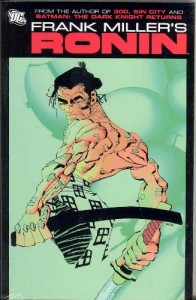 DATELINE: Cable-  SYFY NETWORK is rolling out a wide-sweeping development slate that includes adaptations of FRANK MILLER'S "RONIN"  Jonathan Hickman's "Pax Romana," & "Clone" by David Schulner and Juan Jose Ryp.  The best known of all the works, of course is RONIN, the six-issue mini-series that debuted in 1983. It tells the story of  a 13th-century samurai dishonored by his master's murder, who finds himself reborn in the  21st-century, where he must defeat tornadoes full of sharks
DATELINE: Hollywood- It's official: Zack Snyder will direct the JUSTICE LEAGUE movie.

Fan reaction has been mixed, but this does assure 6 things:
—BATMAN will slide down the Bat-Pole in super slo-mo
–Instead of being raised on Paradise Island by Amazons, WONDER WOMAN will be raised in a weird home for hot orphan girls who dance their way through different realities to full-length music videos
—ALFRED PENNYWORTH will kick a guy into that well that connects with the Batcave
–The story will be changed from DC continuity, in that SUPERMAN will not be in love with WONDER WOMAN, but with LOIS LANE…which actually changes the ending from the continuity of two continuities ago.
–To reflect the director's vision, the ending will be radically altered from the source material: The RIGHT side of CYBORG's face will be robotic instead of the LEFT
–SUPERMAN will walk around with his little blue Kryptonian hanging out
STAY INFORMED, DISCERNING READERS! STAY ALERT, INVOLVED CITIZENS! STAY CLASSY, GALLIFREY! FOLLOW BIFF SOCKO ON TWITTER @bsocko